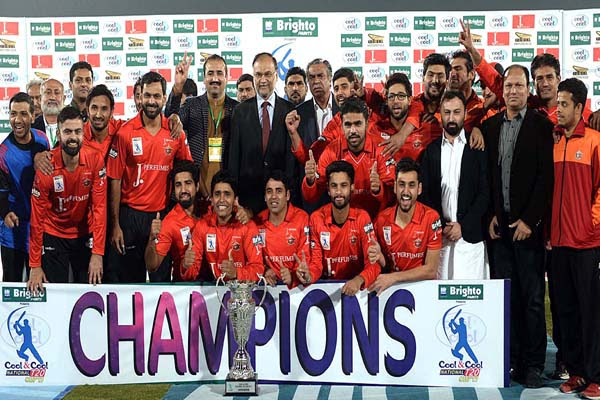 RAWALPINDI: The Lahore Blues were victorious over Lahore Whites by 7 wickets in the final of the National Twenty20 Cup 2017-18 at Rawalpindi Stadium, Rawalpindi.
The low score of 127 runs scored by Lahore Whites, was easily chased by the Blues. The main scorer for the Blues was Imam-ul-Haq who smashed 59 runs off 49 balls with seven 4s and a 6. The captain of the Blues, Muhammad Hafeez contributed by scoring 33 runs of 35 balls including three 4s and a 6. Ahmed Shahzad was also on the list of performers by scoring 22 runs. The Lahore Whites blowers Bilal Asif, Umaid Asif and Asif Ali bagged one wicket each for 23, 24 and 23 runs, respectively.
Earlier, Lahore Whites just managed to score 127 runs for 5 in 20 overs. Half of the total was scored by Salman Butt who hit 62 runs including eight 4s while Kamran Akmal also batted well and added 20 to the total. For Lahore Blues, Atif Jabbar took 2 wickets for 24, Salman Ali Agha 1 for 13, Khalid Usman 1 for 28 and Aizaz Cheema 1 for 26.
Cash Prize winners were:
Lahore Blues as winners: Rs 2,000,000.
Lahore Whites as runner up: Rs 1,000,000.
Best Batsman: Kamran Akmal of Lahore Whites who scored 432 runs took away a cash prize of Rs 50,000.
Best Bowler: Umaid Asif of Lahore Whites having taken 14 wickets in the overall tournament received a cash award of Rs 50,000.
Best all-rounder: Hamad Azam won the amount of cash prize Rs 50,000.
Man of the Match: Imam-ul-Haq (Lahore Region Blues).
Scores Summary: 
Lahore Region Whites:
127-5 in 20 overs
Batting: Salman Butt 62*, 59 balls, 8x4s, Kamran Akmal 20, 14 balls, 1×4, 2x6s,
Bowling:   Atif Jabbar 2-24, Salman Ali Agha 1-13, Khalid Usman 1-28, Aizaz Cheema 1-26).
Lahore Region Blues:
131-3 in 17.3 overs:
Batting: Imam-ul-Haq 59*, 49 balls, 7x4s, 1×6, Muhammad Hafeez 33, 35 balls, 3x4s, 1×6, Ahmed Shahzad 22, 17 balls, 3x4s, 1×6,
Bowling: Bilal Asif 1-23, Umaid Asif 1-24, Asif Ali 1-23.
For updates regularly visit: Allsportspk