LPC LAHORE: Black Horse Paints/Artema Medical set Shoe Planet Polo Cup 2017 final clash against Honda Chenab after defeating Newage team here at the Lahore Polo Club (LPC) ground.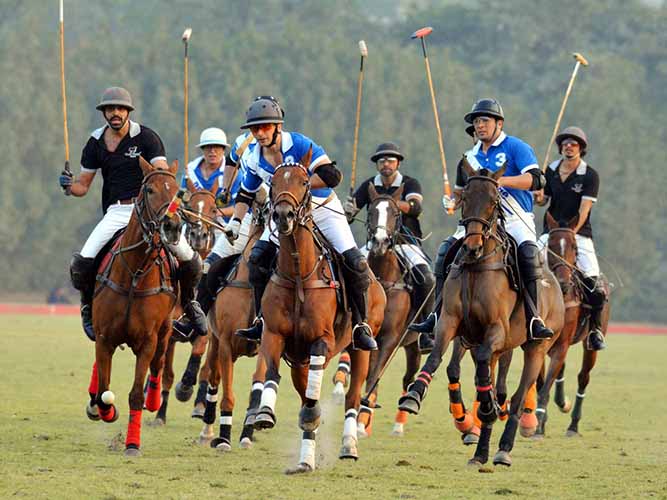 The main final between Honda Chenab and Black Horse Paints/Artema Medical will be contested at 3:00 pm today (Sunday) while the subsidiary final between Dawood Group and Elan will take place at 1:45 pm.
Fighting for the place in the main final, Black Horse Paints, which had two goals handicap advantage, emerged as winners against Newage by defeating them 8-7 in the thrilling encounter. Hamza Mawaz Khan was hero of the day by firing fabulous five goals which also included the match-winning the goal in the fifth chukker. Ahmed Bilal Riaz (one goal) completed the tally for the victors. From the losing side, Shah Shamyl Alam scored a quartet while Ahmed Zubair Butt scored a brace and Adnan Jalil Azam struck one.
Black Horse Paints started the match having two goals handicap advantage while they also contributed with two more goals to take 4-0 lead. Newage hit one goal to reduce the gap to 4-1. Black Horse maintained their supremacy in the third chukker and slammed in two more goals to have 6-1 lead which was soon reduced to 6-2 by Newage. Newage bounced back in the third and fourth chukker and leveled the score at 6-6, which remained intact till the final whistle was blown. The match entered the sudden death chukker, where Hamza Mawaz hammered a match-winning goal to help Black Horse Paints win the encounter 8-7.
On the other hand, Dawood Group defeated Sakuf and Diamond Paints under American system to qualify for the subsidiary final. Dawood Group first outpaced Diamond Paints 5-1 and then edged past Sakuf 4-3 to emerge as winners.
On Sunday, the final between Black Horse Paints/Artema Medical will take place at 3:00 pm at the Lahore Polo Club ground while the subsidiary final will be held at 1:30 pm.
For updates regularly visit: Allsportspk