In the 2023 Inter Club Golf Teams contest between the 20 members of Defence Raya Team, the Royal Palm Golf  Team and Lahore Gymkhana Golf Team, the proficient Lahore Gymkhana Team ended up lifting the 2023 Inter Club Title.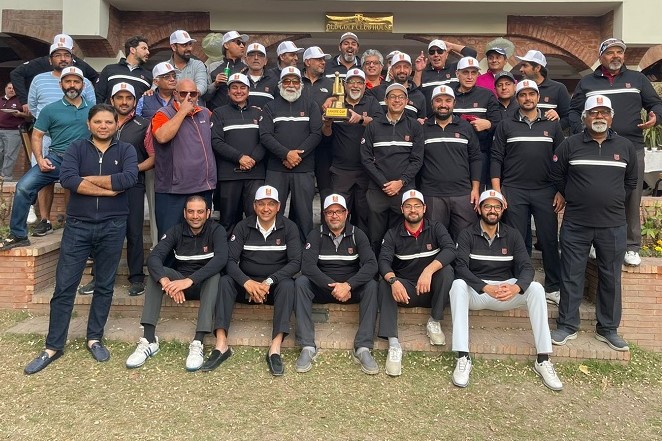 Spread over three days, this championship of merited golf players was contested the first day at Defence Raya Golf Course on alternate shots format, the second day at Royal Palm Golf Course on foursome format and the final third day at Lahore Gymkhana Golf Course on singles match play basis. After the first day the points position was Gymkhana 23, Royal Palm 20 and Defence Raya 17 which after the second days activity changed to Gymkhana 48, Royal Palm 47 and Defence Raya 25.
At the start of the final day it was Lahore Gymkhana in the lead with Gymkhana placed at 48 points, Royal Palm at 47 points, just one stroke behind and Defence Raya at 25 points after the completion of first two rounds competition. 
The final 18 holes competition yesterday at Lahore Gymkhana Golf Course was pivotal and at stake in the singles match play contest was a total of 60 points which means that the ultimate triumphant one could have been either Lahore Gymkhana and Royal Palm. Because of the points difference Defence Raya Team was at a disadvantage.
2021 Inter Club Golf Teams Contest: Royal Palm Team Triumphs
Final round was singles match play and as the championship progressed noticeable was the intensity of Gymkhana players. Accurate hitting off the tees was their hall mark and familiarity with their home course a huge strong point in their ascendancy.
And ascend they certainly did. Those who fetched Gymkhana two points each through their marvellous effort were Omer Farooq, Omer Zia, Sameer Iftikhar, Salman Jehangir, Ammar Hameed, Aasim Zafar Khan, Shahnawaz Durrani, Razaurrehman, Dawar Lashari, Osman Khan and Tanvir Najm Butt. A few other team members who contributed to the points compilation were Dr Arshed Mehmood, Farhan Bhatti, Mohsin Anwar, Ahsan Khawaja, Qasim Ali Khan and Zunair Aleem Khan. Their combined effort enabled the Gymkhana Golf Team to command their way to supremacy with a total compilation of 79 points followed by Royal Palm 61.5 points and Defence Raya  39.5 points. In this way, Gymkhana brought off victory in 2023 and as for history, out of a total of 8 Inter Club Contests held over the years, Lahore Gymkhana has won four times.
In this effort of emerging as runners up, the Royal Palm team members who performed admirably for Royal Palm were Abdul Islam, Abbas Choudry, Hassan Atta, Rana Imran, Usman Cheema, Mohsen Zafar, Damil Atatullah, Hussain Hamid, Asim Tiwana and Shahid Abbas.