The 3rd Hi-Tech Ladies Golf Tournament 2021 was a tussle for acclaim between lady golfers of expertise and eagerness for laurels. Contested over 18 holes at the Royal Palm Golf Course, Lahore.
The event attracted ladies from all golf clubs of Lahore and invitees from outstation clubs, the illustrious ones being Bilquees Habib and Naveela Faheem, Rafaqat Abjad (Rawalpindi), Tehmina Rashid (Islamabad ) and Mrs Yasmin Mubarik who dominated the ladies game in the decades of eighties and nineties.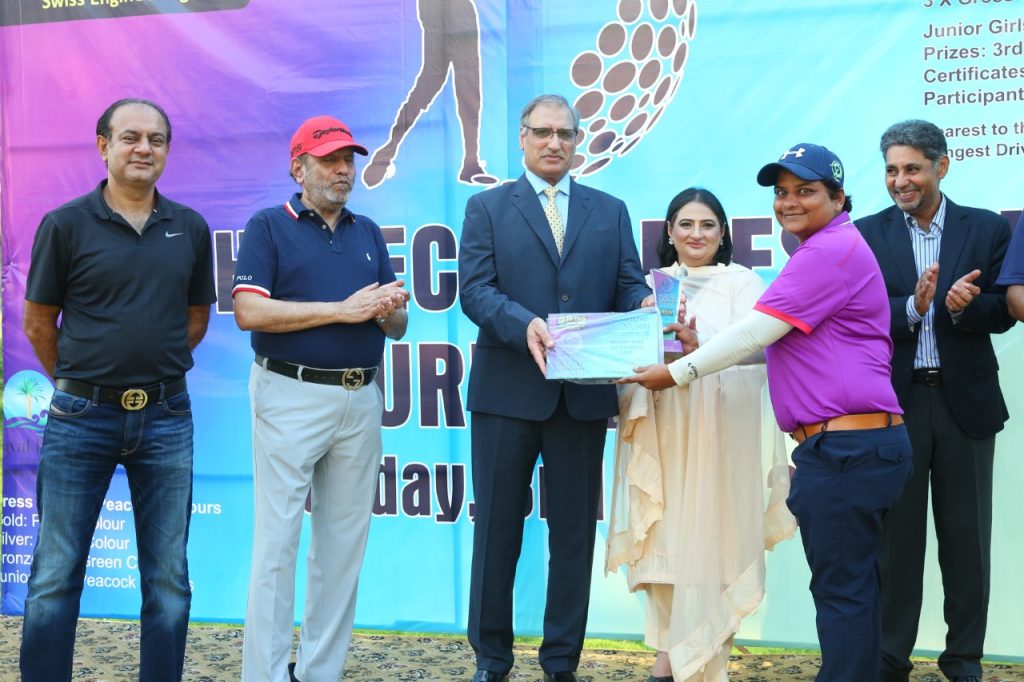 At the end of the 18 holes head to head race, the pace setter in the Gold Category segment was Parkha Ijaz. This was consecutive win for Parkha as the 2nd Hi-Tech Ladies Golf Tournament was also won by her.
The other significant ones were in Silver segment, the seasoned Shahzadi Gulfam and Bronze category topper was Munnaza Shaheen.
Parkha Ijaz won the first gross among participants falling in handicap category 0-15, Shahazadi Gulfam picked up first gross out of competitors whose handicap was in the range 16-24 and Bronze section gross winner was Munazza Shaheen. And in the overall championship race the remarkable one turned out to be Parkha Ijaz who once again was a distinctive one because of her mastery in hitting long drives and accuracy oriented shot making from the fairways.
As for the other participants, it was a useful experience competing in this stroke play format in the company of impregnable and daunting ones and matching skills with them, be it hitting off the tees, fairway shots or the most technical of shots, the chip from around the green. The very youn g ones like Momina Tarrar, Bushra Fatima, Laiba Ali Shah and Mahnoor Syed were grateful to the tournament Director,Minna Zainab for providing them an opportunity to compete in this experience yielding event.
Results; Handicap 0-15 Parkha Ijaz, first gross; Ghazalla Yasmeen, 2nd gross; Ana James Gill, first net; Bushra Fatima, 2nd net; Handicap 16-24; Shahzadi Gulfam, first gross; Tehmina Rashid, 2nd gross; Dr Fauzia, 3rd gross; Rafaqat Abjad, 1st net; Ayeshha Moazzam, 2nd net; Shaheen Irfan 3rd net; Handicap 25-36; Munazza Shaheen, first gross; Rabia Tiwana, 2nd gross; Minaa Zainab, 3rd gross; Sadia Asim, 1st net; Balquees Haseeb, 2nd net; Naveela Faheem, 3rd net; Senior Ladies; Mrs Yasmin Mubarak, 1st gross; Mrs Ayesha Hamid, first net; Junior Girls 11 and below; Amina Ali Khan, first gross; Natalia Shahzadi, 2nd gross; Girls 12 -14 years; Shazmina Khan, 1st net; Zarmina Khan, 2nd net.
The performing ladies were honoured and awarded prizes by Chief Justice of Lahore High Court, Justice Muhammed Ameer Bhatti and Justice Abid Aziz, alongwith Dr. M.Arshed and Minaa Zainab.