Pakistan Cricket: New PCB Chairman Appointed?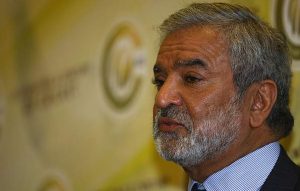 Pakistan's newly elected Prime Minister, Imran Khan named previous ICC president Ehsan Mani, as the chairman of the Pakistan Cricket Board (PCB).
I have appointed Ehsan Mani as Chairman PCB. He brings vast and valuable experience to the job. He represented PCB in the ICC; was Treasurer ICC for 3 yrs and then headed the ICC for another 3 yrs.

— Imran Khan (@ImranKhanPTI) August 20, 2018

However, a little latter the PM twitted again and stated that Mr. Mani has been made member of PCB Board of Governors who will elect a chairman.
We will follow the set procedure which entails my nominating him on the PCB Board of Governors. He may then contest elections for the position of Chairman PCB. https://t.co/kYZOnnMUFg

— Imran Khan (@ImranKhanPTI) August 20, 2018
Imran Khan, who is likewise a benefactor of the PCB, has made this choice after Najam Sethi resigned from his position after serving the post for over than a year.
Pakistan Cricket: PCB Chairman Najam Sethi Resigns
Extremely grateful to @ImranKhanPTI for the opportunity, Inshallah we will take Pakistan cricket to greater heights in Naya Pakistan.

— Ehsan Mani (@azkhawaja1) August 20, 2018
Ehsan Mani is a wellknown prospect in worldwide cricket, as he had served as the head of the International Cricket Council (ICC) for 3 years. After his appointment, Mani said:
I want to improve Pakistan cricket on the grassroots level. We will enhance the domestic structure as according to PM Imran's vision," he said. "PM wants Pakistan cricket top on the international level.
Ehsan Mani – A Highly Experienced Cricket Administrator
Mani, who hails from Rawalpindi, progressed towards becoming ICC President in June 2003. In 1996 he was chosen by all cricketing nations as the Chairman of the ICC Finance and Marketing Committee, a position he held until the point that the Committee was broken down in June 2002, when he assumed control as Vice-President of the ICC Executive Board.
Mani has served on various ICC Committees, including the Chairman's Advisory Committee, Rules Review Committee and the Governance and Organization Committee.
1) From 1989 to 1996, Mani represented the PCB in the ICC.

2) PCB representative for 1996 & 1999 World Cup advisory committee.

3) In 1996 Elected as Chairman of the ICC Finance and Marketing Committee.

— Meh Wish ?? (@KhanXkuri) August 20, 2018
He was likewise the PCB's representative on the organizing board of trustees of the 1996 ICC Cricket World Cup in Pakistan, India and Sri Lanka, and was an individual from the ICC Cricket World Cup Advisory Committee for the 1999 competition in England.
A Chartered Accountant by calling and long-lasting UK inhabitant, Mani is on the Board of various UK organizations, which incorporate saving money and land.
His budgetary ability was utilized to great impact when assuming a noteworthy part in the offer of ICC media rights in 2000; arrangements which accomplished an ensured salary of $550 million for worldwide cricket, up to and including the ICC Cricket World Cup 2007.
He played cricket for the Rawalpindi Club from 1959 to 1965 as a left-arm quick medium bowler and a right handed batsman.
For more updates keep visiting allsportspk