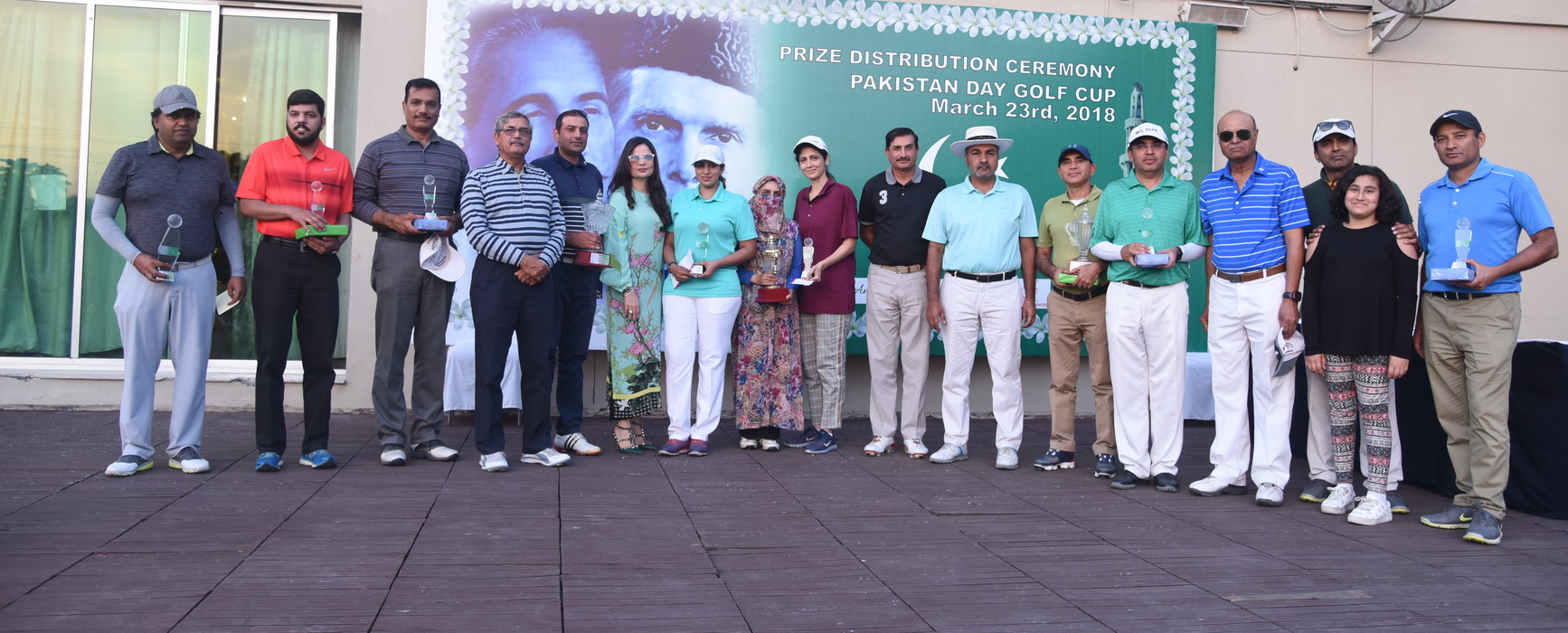 During the Pakistan Day Golf Tournament held to celebrate this occasion yesterday at the alluring Royal Palm Golf. 90 golfers participated to honour Pakistan and attempt to become victors and get associated with title bearing happening. And while all participants were fully excited about their chances of victory, they showed their energized feeling by wearing the green Pakistani colors and wearing the National Logo.
Once the tee off blasted off through a shot gun start, it became a stormy affair with each competitor trying to outdo the other. In the process, some over eager ones lost their bearing and the inaccuracy in shot making acquired a frequent touch and as a result even a few skilled ones were thrown out of the race. The more smart ones however etched their names as winners on this important Pakistan Day linked occasion. They stayed afloat, using their woods hitting ability effectively, their shot off the tees long and accuracy oriented and pars coming consistently.
Notable was the performance of Abbas Chaudhry, who turned out to be the best one in the gross category, carding a gross 78 and acquiring the Pakistan Day Golf Title. In the gross section the other adept one was Faisal Sayid, who made a determined effort but lost to Abbas by a stroke. While Abbas compiled a score of gross 78, Faisal finished at gross 79.
As for the competitors seeking to emerge as the top ones in net segment, the effort of Sameer Iftikhar, a five handicapper needs to be complimented. Every aspect of his game was remarkable and the effort yielded to him the first net position through a score of net 68. The one who came second in net was Salman Tanveer, through a score of net 69.
Results Summary
Net winner: Sameer Iftikhar
Net Runner up: Salman Tanveer
Gross winner: Abbas Chaudhry
Gross runner up: Faisal Sayid
Seniors:
Winner Gross: Col(r)Jameel Khalid
Net First: Abid Farooq
Net Second: Air Marshal Raza
Ladies:
Winner Gross: Mrs Rubina Nasir
Net First: Mrs Minah Aziz
Net Second: Mrs Rabia Tiwana
At the end of the tournament Mrs Annie Shoaib Shams, CEO of Fashion Central gave away prizes to the Ladies and Gen Hilal Hussain, President ,Pakistan Golf Federation gave away prizes to the winners in Men's section.