LPC LAHORE: Newage/BBJ Pipes outpaced Rijas Aces/PAF by 8-5.5 in the inaugural encounter of the Hamdan Holdings Punjab Polo Cup 2018 played at the Lahore Polo Club ground.
Salvador Ulloa was in sublime form and displayed outstanding polo skills with stick and pony. Half of the Newage/BBJ Pipes goals were slammed in by Salvador while a hat-trick came from Ahmed Zubair Butt and one-goal contribution from Ahmed Ali Tiwana. Rijas Aces/PAF couldn't get benefit from one and half goal handicap advantage, as they could add just four goals in their total tally and made it 8-5.5 in the end. Deigo Araya (2 goals), Juan Cruz Araya and Faisal Shahzad (1 goal each) were the goal scorers from losing side.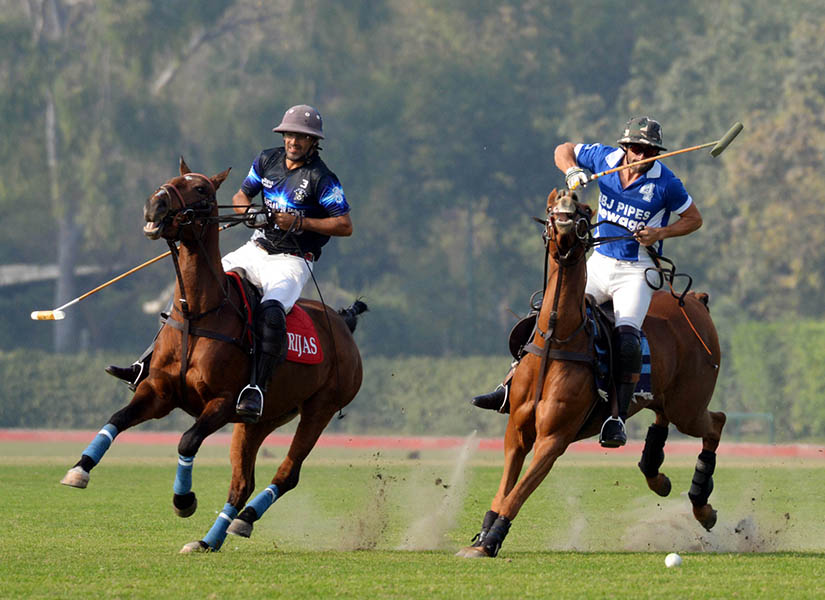 Newage/BBJ Pipes dominated the first chukker by banging in a brace to tale 2-0 lead. Salvador and Ahmed Zubair were the scorers. Newage maintained their supremacy in the second chukker as well as they converted one more to stretch their lead to 3-0. Rijas Aces bounced back through Deigo Araya, who fired a fantastic field goal to make it 3-1.
Rijas Aces smashed two more goals in the beginning of the third chukker to level the score 3-3. Juan Araya and Deigo Araya hit one goal apiece. But Newage then changed their gears and fought back well to pump in two more goals through Salvador and Ahmed Zubair to take 5-3 lead.
Newage once again showed their supremacy in the fourth and last chukker by hammering a hat-trick – one goal each by Ahmed Zubair, Ahmed Tiwana and Salvador – to take insurmountable 8-3 lead. By the close of the chukker and the match, Faisal though Struck one to reduce the margin to 8-4 yet it was too less for them to register victory. With one and half goal handicap advantage, the final score was 8-5.5 in favour of Newage/BBJ Pipes. Howard George Smith and Jason Dixon were field umpires while Ignasio Negri was match referee.
Three matches will be contested today on Wednesday, as:
Master Paints Black will take on Master Paints/Rizvi's at 1:00 pm
Barry's will face Rijas Aces/PAF at 2:00 pm
Army will vie against Diamond Paints/Guard Rice at 3:00 pm.
For updates regularly visit: Allsportspk