Richard Cockerill: Rugby Needs To Be Safe But Also 'Physical'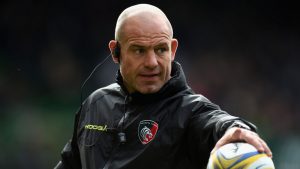 Edinburgh head coach Richard Cockerill says rugby's laws must ensure the safety of players without compromising the physical essence of the sport.
Leicester head coach Geordan Murphy claimed "the game has gone too PC" after one of his players, Will Spencer, was sent off for a dangerous tackle against Wasps.
And Cockerill says the sport can never be fully eradicated of risk.
"It's a game of rough and tumble," Cockerill said.
Rugby Championship 2018: Australia Overcomes Pressure; Beats South Africa
"If you don't want to get hurt, don't play the sport. It's one of those things. You want the game to be safe but you just have to go and play and accept that there are risks in playing."
Spencer was red-carded for a high tackle after his shoulder appeared to make contact with the head of Wasps hooker Tommy Taylor in the first-half of Leicester's 41-35 defeat at the Ricoh Arena.
Leicester coach Murphy was angry at the decision, and says the laws around contact with the head make it difficult for taller players to tackle effectively without risking yellow or red cards, a point Cockerill agrees with.
"I watched the game and the tackle is, by the letter of the law, probably a red card," said Cockerill, who coached Leicester to three Premiership titles.
Asian Games '18 – Rugby: Pakistan 7s Team All Set To Compete
"However, the only person who seemed to have a problem with it was the TMO. The referee didn't, the players didn't. It's a really tough one because it ruins the game.
"I'm not sure the law was brought in for that type of incident. It wasn't malicious, it wasn't intentional. For me it's probably a yellow card.
"It's a very difficult one but it did seem both the TMO and the referee were quite keen to get the red card out."
For more updates keep visiting allsportspk