LPC LAHORE: Black Horse Paints and Army won their respective matches of the Samba Bank Lahore Open Polo Championship 2017 being played on Wednesday at the Lahore Polo Club (LPC) ground.
The first match of the day turned out to be a thrilling one as Black Horse Paints had to struggle hard to beat Newage by 4-3. Hissam Ali Hyder emerged as hero of the day as he hammered a hat-trick for Black Paints while Agha Musa contributed one. From Newage, Ahmed Ali Tiwana scored a brace and Adnan Jalil Azam converted one.
Newage started the match with a field goal from Adnan Jalil to take 1-0 lead. Black Horse then bounced back in style and banged in two impressive goals through Hissam and Agha Musa to snatch the lead from Newage to make it 2-1. The only goal of the second chukker was struck by Newage when Ahmed Ali scored a field goal to level the score 2-2 while Hissam hammered an impressive field goal to provide Black Horse 3-2 lead again.
In the fourth and decisive chukker, Ahmed Ali played superbly and fired a field goal to draw the blood again at 3-3. Both the teams then launched a series of attacks on each other's goal but they failed to convert them successfully. In the dying moment of the match, Hissam got the golden chance of scoring the match-winning goal for his team as he was given 30-yard penalty which he converted successfully and helped his team register a thrilling 4-3 triumph.
Raja Arslan Najeeb and Hernan Pieres were field umpires.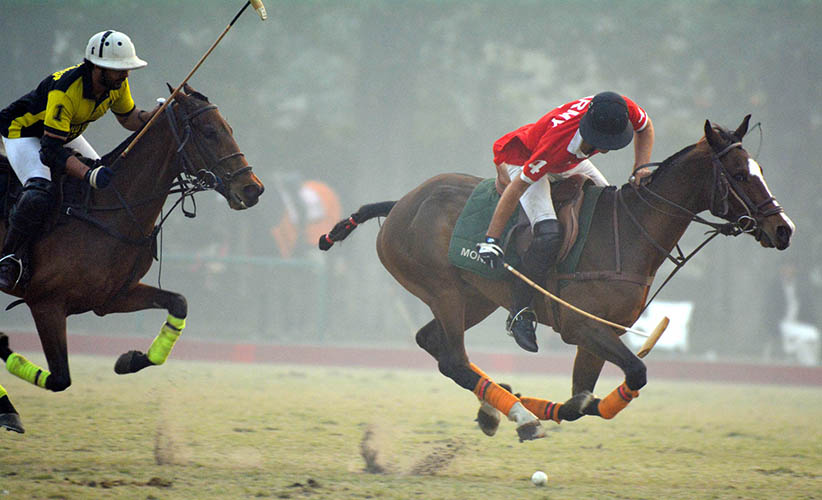 The second encounter of the day proved to be a one-sided affair as Army taught a polo lesson to Guard Group after thrashing them by 10-1. Luis Mighal Duggan was star of the day as he slammed in superb seven goals for Army while Maj Adil Rao thwarted two goals and Maj Omer Minhas one. Abdul Rehman Monnoo struck the only goal from Guard Group.
Army were off to flying start as they thwarted tremendous three goals in the first chukker to take 3-0 lead. They further enhanced their lead to 6-0 in the second chukker by pumping in three more goals. The third chukker saw Guard Group scoring their only goal through Abdul Rehman Monnoo to make it 6-1. After that it were once again Army players, who added two more goals in their totally tally to stretch their lead to 8-1. In the fourth and last chukker, they banged in two more goals to finish the match having 10-1 lead.
Usman Khan riding AL BURAQ 180 Prelim A Tonimbuk Horse Trials 2013
Raja Arslan Najeeb and Eulogio Celestino officiated the match as field umpires.
Two more matches will be contested on Thursday, as Allied Bank will play against Green Orchard/Rijas in the first encounter at 2:00 pm while Barry's will vie against Habib Metro Lions/Master Paints in the second match to be played at 3:00 pm.
For updates regularly visit: Allsportspk