Rising stars Asad Zaman and Omer Jawad claimed three titles each in the Sapphire Punjab Junior Tennis Championship 2022 that concluded at the Punjab Tennis Academy, Bagh-e-Jinnah, Lahore.
Asad won his first title by beating Hassan Ali with a score of 6-1, 7-6. He doubled his crowns when he, partnering with Amir Mazari outpaced the pair of Zaeem Ghafoor and Hassan Ali in the boys U-18 doubles final with a margin of 5-4, 4-2. Asad, who is the No 1 U-16 player, completed the hat-trick of titles when he outsmarted Amir Mazari in the boys U-16 final by 6-1, 6-4.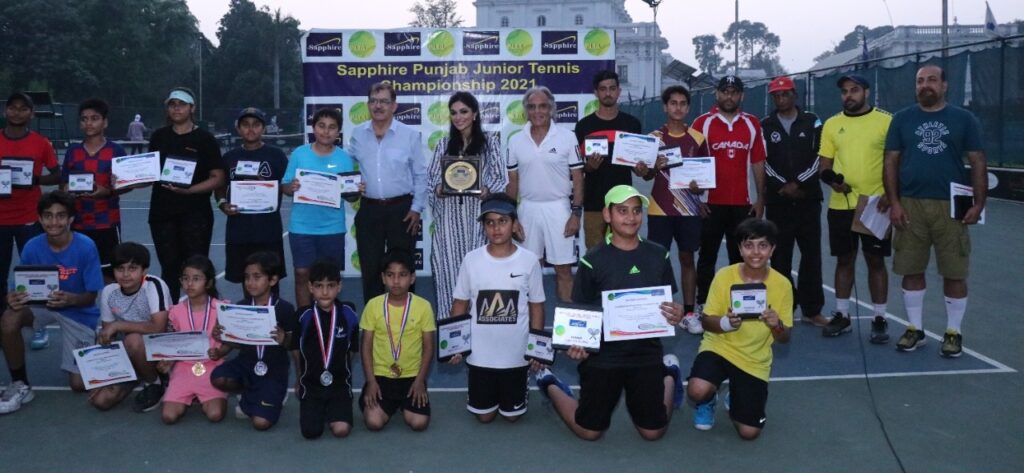 Omer Jawad also managed a hat-trick of titles as first he defeated Zohaib Afzal Malik by 6-2, 6-1 to claim the Boys U-14 title. He doubled his titles, when he, partnering with Ismail Aftab, grabbed the boys U-14 doubles title. They beat the pair of Aalay Hussain and Eesa Bilal 4-2, 4-1. The victory in the boys/girls U-12 final against young and promising Abdur Rehman helped Omer complete the hat-trick of titles. He outclassed Abdur Rehman 6-0, 6-2.
In the Girls U-18 final, talented Ashtafila Arif beat young Hajra Sohail 7-5, 6-3 to lift the title. In the Boys/Girls U-10 final, Hajra Sohail (AAA Associates) outpaced Mustafa Uzair Rana 8-2 to clinch the title. In the Boys/Girls U-8, Ahsan Bari grabbed gold, Ibrahim Siraj silver and Daniyal Afzal Malik bronze medal. In the boys/girls U-6, Soha Ali clinched gold, Mamnoon Bari silver and Diana bronze medal.
Hafsa Shayan of Sapphire Textile as chief guest and distributed prizes and shields among the winners and top performers.