During these lock-down times, many sports have adopted to virtual options and even games which have been virtually existent, have now become more virtually prominent.
One such example is the game of Scrabble in Pakistan. Organized by PSA-Pakistan Scrabble Association the weekly tournament – Virtual Scrabble Tournament has had 9 editions successfully organized in association with Cinepax and Allsportspk.
The latest feather in the achievements list of Pakistan Scrabbles is the Scrabble Bilateral Series between Pakistan and South Africa. A brainchild of two distinguished scrabble players, Mr. Waseem Khatri from Pakistan and Mr. Jayed Page of South Africa the 1st Round Robin Scrabble event will be held on 31st May 2020.
Talking exclusively to Allsportspk, Mr. Waseem who is the Number 1 ranked player of Scrabble in Pakistan mentioned that this idea came into his mind and as being in touch with his various international scrabble colleagues, the idea materialized with Mr. Jayed Page who is an international South African scrabble player. Upon consulting respective Scrabble associations PSA – Pakistan Scrabble Association and SASA-South African Scrabble Association the first tournament was finalized and will be held on 31 st May 2020.
For interest of Scrabble fans and players, according to Mr. Waseem similar Bilateral series have moreover been finalized with even major scrabble nations like Thailand, Singapore and Malaysia. Details will be in sha ALLAH announced soon.
The squad details and the match details are as follows:
Each nation is represented by two squads playing as Team A and B.
Both nations have 20 players participating i.e. 10 in each Team
A total of 200 matches shall be played by both teams – A & B. Both team will play 100 matches each. With each player playing 10 matches each.
The duration of match will be 30 minutes i.e 15 minutes for each player.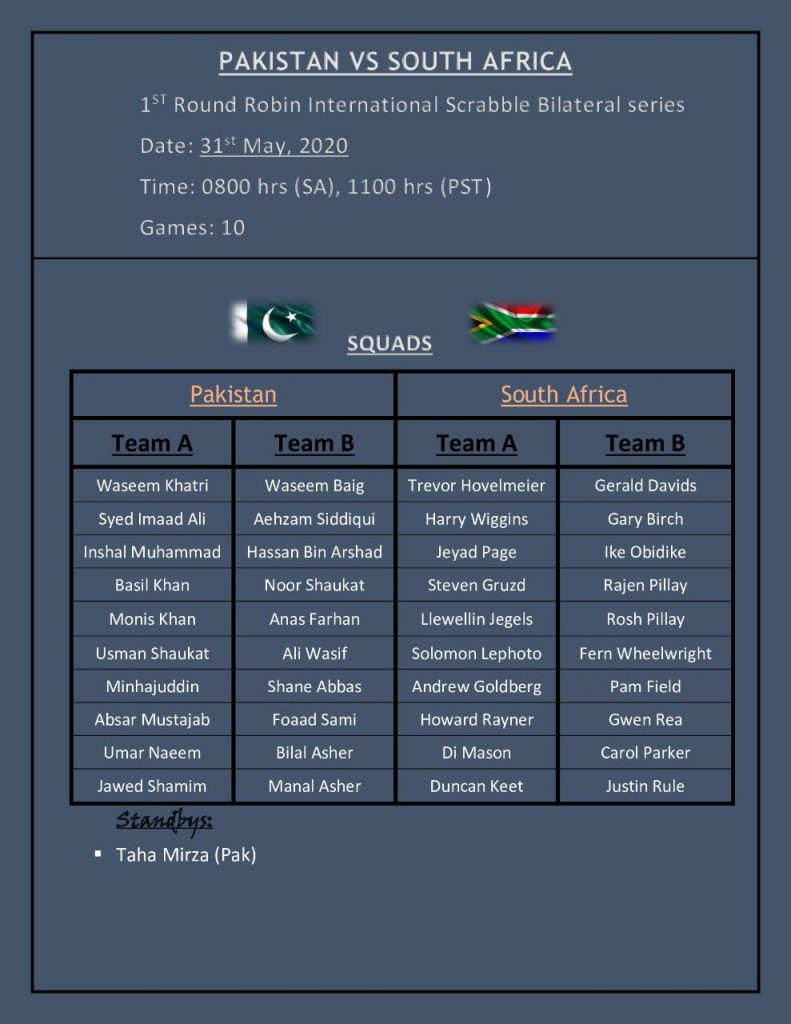 Follow Allsportspk for more updates!