Serena Hotels CAS & Pakistan International Squash: Day 1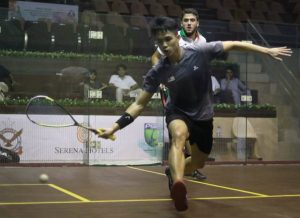 ISLAMABAD: Main round of Serena Hotels CAS International for Men and Pakistan International Squash Tournament for Women started at Mushaf Squash complex, Islamabad.
The Men event carries a prize purse of US$ 30,000/- whereas Women event has US$ 10,000/- prize money.
Women's World Team Squash Championship: 2 Indians Withdraw; Redraw Takes Place
The 2nd round of tournaments would be played on 11 September.
Results of Matches are as under:-
CAS International for Men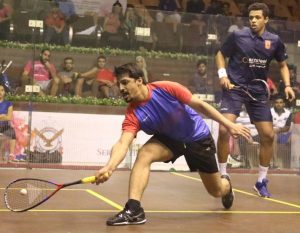 Leo Au (Hkg) Got-By
Ivan Yuen (Mas) Beat Sajad Zareian Jahromi (Iri) 15-13, 11-6, 11-5 (3-1) 32 minute
Ahmed Hosney (Egy) Beat (WC) Abbas Zeb (Pak) 9-11, 11-8, 11-9, 9-11, 11-9 (3-2) 44 minutes
Mazen Gamal (Egy) Got-Bye
Mohamed Reda (Egy) Got-Bye
Tayyab Aslm (Pak) Beat Shahjahan Khan (Pak) 12-10, 11-5, 13-15, 4-11, 16-14 (3-2) 83 minutes
Asim Khan (Pak) Beat Amaad Fareed (Pak) 12-10, 11-6, 11-6 (3-0) 45 minutes
Karim Al-Fathi (Egy) Got-Bye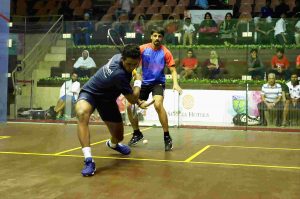 Omar Abdel Meguid (Egy) Got-Bye
Shehab Essam (Egy) Beat-Aqeel Rehman (Aut) 11-7, 11-5, 11-8 (3-0) 31 minutes
Ahsan Ayaz (Pak) Beat-(WC) Aamir Atlas Khan (Pak) 11-5, 11-6, 6-9 Retd 24 minutes
Youseff Soliman (Egy) Got-Bye
Karim El Hammamy (Egy) Got-Bye
Mostafa Asal (Egy) Beat-Farhan Zaman (Pak) 11-7, 11-7, 11-7 (3-0) 36 minutes
Farhan Mehboob (Pak) Beat-Israr Ahmed (Pak) 10-12, 11-6, 11-4, 11-3 (3-1) 36 minutes
Nafizwan Adnan (Mas) Got-Bye
Pakistan International for Women
Rowan Elarby (Egy) Got-Bye
Anantana Pasertratanakul (Thi) Beat Noor Ul Huda (Pak) 11-5, 11-4, 6-11, 11-2 (3-1) 19 minutes
Amna Fayyaz (Pak) Beat Rushna Mehboob (Pak) 11-6, 7-11, 12-10, 11-4 (3-1) 31 minutes
Faiza Zafar (Pak) Got-Bye
Farah Momen (Egy) Got-Bye
Farida Momen (Egy) Beat Saima Shaukat (Pak) 11-1, 11-2, 11-6 (3-0) 14 minutes
Moqaddas Ashraf (Pak) Beat Anam Mustafa Aziz (Pak) 11-8, 11-5, 11-5 (3-0) 16 minutes
Menna Hameed (Egy) Got-Bye
Tong Tsz-Wing (Hkg) Got-Bye
Zoya Khalid (Pak) Beat (WC) Laiba Ahmed (Pak) 11-4, 11-4, 11-8 (3-0) 18 minutes
Zahab Kamal (Pak) Beat (WC) Fehmina Asim (Pak) 11-6, 12-10, 7-11, 11-5 (3-1) 24 minutes
Madina Zafar (Pak) Got-Bye
Tessa ter Sluis (Ned) Got-Bye
A. Mousavazadeh (Iri) Got-Bye
Riffat Khan (Pak) Beat Komal Khan (Pak) 11-9, 11-9, 11-7 (3-0) 25 minutes
Nada Abbas (Egy) Got-Bye
For more updates keep visiting allsportspk