Zalmi Madrasa Cricket League: Al Nujoom Risers – 2018 Champions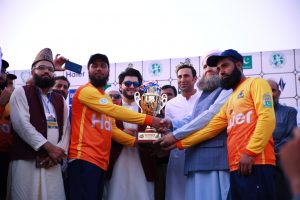 PESHAWAR: Zalmi Madrasa League came to an end with Al Nujoom Risers becoming the Champions. Played at Arbab Niaz Stadium, Peshawar between Al Nujoom Risers and Al Wahda Hitters, both the teams were favourites of the tournament and seeing them in the final was not a surprise.
Cricket – Caribbean Premier League: Mohammad Irfan Breaks A Record
The Chief Guest Younis Khan, having been enthusiastically welcomed by the crowd and the players was very pleased with the efforts of Peshawar Zalmi and said that "these initiatives need to happen more frequently. As sports is a platform that can bring everyone together and also promote harmony along with it. He said that "Zalmi Madrasa Cricket League is an initiative that have set an example for others. Not only has it provided the madrasa students a cricket platform but has also promoted a positive image of Pakistan."
The final was a thrilling encounter between the two sides. Al Wahda Hitters chose to bat first and set up a total of 104 runs for the loss of 3 wickets. Adil Nawaz scored 42 runs with Jalil scoring 20 runs. Haris and Luqman both picked up 1 wicket each.
In reply, the Al Nujoom Risers lost early wickets but came back in the game with a sensational knock of 41 by Ayyaz who was unbeaten. Umar scored 28 runs to help them get closer to the target. The climax was when Al Nujoom Risers needed 40 runs of the last 2 overs. With Al Haq Smashers being the favorite at that point, Ayyaz smashed 2 sixes and 2 fours in the second last over to change the fate of the game. After hitting a six of the second last ball of the innings, he brought the trophy home by taking a single of the last ball. Al Nujoom Risers with a total of 105/4, won the final by 6 wickets. Taimoor took 2 wickets for 22 runs and Atiq bagged in 1 wicket for 13 runs.
World Cricket Rankings – 24th August '18: Virat Kohli Regains His Top Spot
According to the organizers, Zalmi Madrasa Cricket League will be taken a step forward and such leagues will also be introduced  in the provinces of Punjab, Sindh and Balochistan.
At the concluding ceremony, Chief Guest Younis Khan, awarded the winning team with Zalmi souvenirs, kits and shirts. The Zalmi management, Chairman – Javed Afridi, Head Coach – Mohammad Akram were also present.
For more updates keep visiting allsportspk