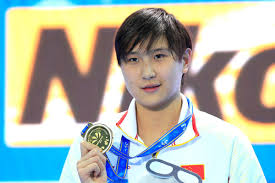 Wang Jianjiahe of China has set a new Asian record for 1,500 meters freestyle swimming in women's category.
The 18 years old Jianjiahe swam 1,500 m in just 15:45.59 during Day 2 of the 2020 Chinese National Swimming Championships in Qingdao.
The new record is 1.1 seconds better than the previous record which was also set by Jianjiahe during 2019 Pro Swim Series Des Moines.
Jianjiahe is preparing to win a gold during Tokyo Olympic 2020-21.
The Runner up was 30 seconds late than Jianjiahe.
In the past, Jianjiahe won bronze medal in the women's 1,500-meter freestyle at the 2019 FINA World Championships held in Gwangju, China.