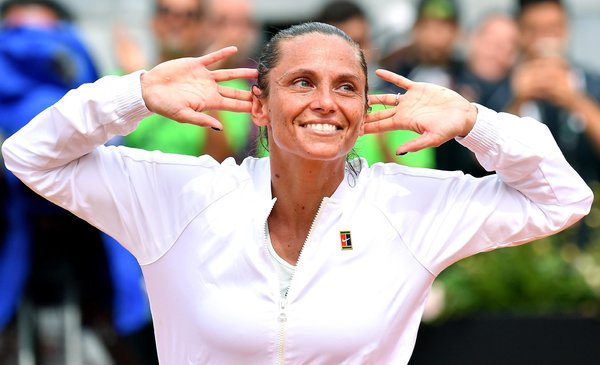 After losing the match against Aleksandra Krunic at Italian Open this week, Roberta Vinci declared her retirement from professional Tennis as she retired after playing this sport for a total of 19 years.
Vinci who is 35 years of age, also holds the honor of being a former World No.1 in Women's Double and World No.7 in Women's Singles. Born in Italy, Roberta Vinci served as a true role model for upcoming Tennis players and professional players alike.
The Last Match – Wonderful Memories
Roberta Vinci had already confirmed in December 2017 that the Italian Open would be her last tournament in her career. And, it was rightly so as she also confirmed her retirement in front of a large crowd after the final match.
Although, Vinci would have liked to see this tournament through to the end and take the Italian Open trophy with her.
However, Aleksandra Krunic was sensational as she won the match quite easily with the final scores being 2-6, 6-0 and 6-3 as the Russian national beat Vinci to advance through the tournament.
A Closer Look At The Stats
Vinci career's win-loss ratio is quite decent as she holds an overall record of 415-205 with a win% of 66.94%.  With a total of 25 WTA titles and 10 ITF titles, her career was a rewarding and exciting journey.
Roberta's  most notable wins were:
| | |
| --- | --- |
| Tournaments Won | Year |
| Australian Open | 2013,2014 |
| French Open | 2012 |
| Wimbledon | 2014 |
| US Open | 2012 |
| Fed Cup (Team Competition) | 2006,2009,2010,2013 |
A Fitting Farewell Ceremony
This was always expected as Roberta Vinci's was one of Italy's best professional Tennis players and she got the farewell she deserved from an Italian crowd at Fort Italico Tennis court.
Even her competitor, Aleksandra hailed Vinci after the match as she termed her as a role model of fair play and congratulated her on the end of an amazing career.
After the match Roberta Vinci took to Twitter to express her emotions in one line as she said: "Thank you for the memories".
Congratulatory messages from professional Tennis players
After the match, she was congratulated on social media and especially on Twitter by several contemporary Tennis players.
Most Notable tweets surrounding here retirement are as follows:
Practicing with her @InteBNLdItalia and seeing how the fans adore her is an experience I will always remember. Amazing career, incredible person. Thank you for the smiles & inspiration @roberta_vinci! https://t.co/dgWxTUwmBy

— Shelby Rogers (@Shelby_Rogers_) May 14, 2018
Robiiiii. Sorry I didn't see you on site today. I wanted to hug you and tell you what a great person you are and player too! But we know tennis is not evrerything. Wishing you all the best for the future, be happy my dear. Tennis will miss you, same with me ❤ pic.twitter.com/qGiOvoPWRl

— Petra Kvitova (@Petra_Kvitova) May 14, 2018
Quello che abbiamo vissuto e' incancellabile… Prenditi cura di te Cichi…
Raise your voice, raise your game #justdoit #nikefamily @roberta_vinci pic.twitter.com/DQQvCOfvti

— Sara Errani (@SaraErrani) May 14, 2018

For updates regularly visit: Allsportspk