Thai Footballer Boys Cave Drama: All Rescued After 17 Days!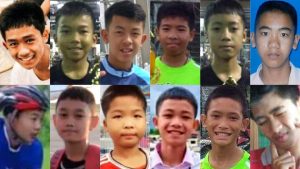 Chiang Rai, Thailand: The 17 days cave drama ended when the Thai SEALS divers squad headed by Narongsak Osottanakorn successfully rescued today the remaining 5 boys and their football coach.
A mission which seemed impossible to others but not to them as it was their pride and of Thailand to rescue the 13 stuck in the cave since 23rd June.
Thai Footballer Boys Cave Rescue: 8 Boys Freed
This operation was truly historic and not many would have dared to have saved the Thai footballer boys and their coach. As, they were trapped deep inside the Tham Luang cave network which was completely water logged due to Monsoon season.
However, Thai rescue team dived into the 1.7 km rocky passages and successfully came back with the boys, neither of whom knew how to dive or swim.
Over a hundred people were a part of this historic rescue operation.
Post the incident, people from all over the world wrote congratulatory messages on Twitter. Here are some of them.
Paul Pogba dedicates France's #WorldCup semi-final win to the Thai football team rescued today ? pic.twitter.com/DGOREm1or4

— B/R Football (@brfootball) July 10, 2018
Trump can take time to congratulate the SEALS returning all 12 boys trapped in a cave in Thailand to their parents, but he can't take a moment out of his day to try and return immigrant boys & girls to their parents in the U.S.

America First?
I don't think so!

— Ed Krassenstein (@EdKrassen) July 10, 2018
The best football news of the summer – ALL 12 young Thai players and their coach have been rescued after being trapped in a cave in Thailand for two weeks.

Our thoughts are with the family of ex-Navy SEAL diver Saman Kunan who died after delivering the boys oxygen. A real hero pic.twitter.com/UKW5tXfGei

— AS Roma English (@ASRomaEN) July 10, 2018
REAL SUPER-HERO divers save all the 12 boys and their football coach from the scare of death deep inside the #Thailand cave. We celebrate you for a job well done. #ThaiCaveRescue #ConsumersBeware pic.twitter.com/7QHj5VgpKs

— Consumers Federation of Kenya (COFEK) (@ConsumersKenya) July 10, 2018
All 12 boys and their coach rescued from a cave in Thailand after more than 2 weeks, AMAZING!

— Mohamed Salih (@MohamedMOSalih) July 10, 2018
"No kid has cave dived like this before": Meet one of the divers working to free the boys trapped in a cave in Thailand #ThaiCaveRescue

Live updates: https://t.co/U0WXd8PyOP pic.twitter.com/CT8ondk3w6

— vinayakk kajale ?? (@vinaykajale) July 10, 2018
Hey, @FCBayernEN, @FCBayernUS, one of the boys rescued from the Thailand cave seems to be a FC Bayern supproter. Send him a proper kit, he truly deserves it! #MiaSanFamily #ThaiCaveRescue pic.twitter.com/sdwDjbYCqM

— Krista (@kfcbm) July 10, 2018
For more updates keep visiting allsportspk