The Virtual World Cup management has announced today the final Groups of the 16 teams which are participating.
Four teams have been drawn and placed into four Groups. Two top teams of each Group will advance to the next stage.
The first day schedule was also announced. Accordingly there will be four matches each on 11th July and 12th of July. The details are appended below the Group table.
The Groups and Teams are as follows: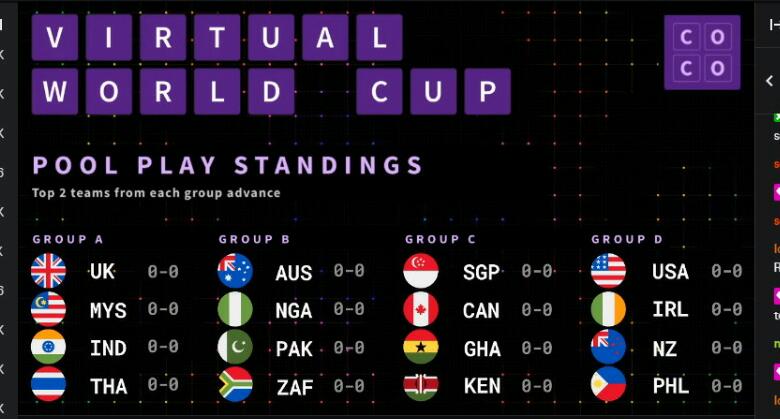 First Match Schedule
Group
Match
Date
Time (GMT)
A
Malaysia v. India
Saturday,11th July
12:00 p.m.
B
Nigeria v. Pakistan
Saturday, 11th July
4:00 p.m.
C
Canada v. Ghana
Saturday, 11th July
8:00 p.m.
D
Ireland v. New Zealand
Saturday, 11th July
8:30 p.m.
D
United States v. Philippines
Sunday, 12th July
1:00 a.m.
C
Singapore v. Kenya
Sunday, 12th July
7:00 a.m.
B
Australia v. South Africa
Sunday, 12th July
7:00 a.m.
A
United Kingdom v. Thailand
Sunday, 12th July
2:00 p.m.