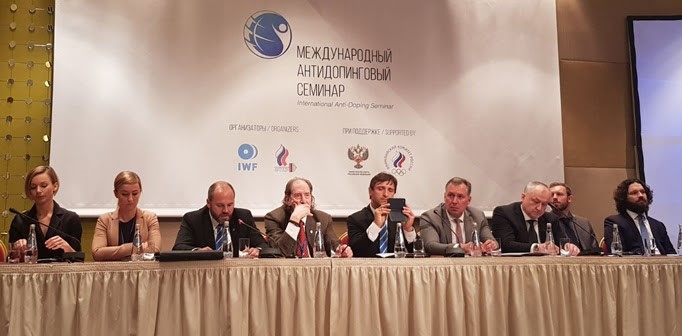 Russian Weightlifter Federation in collaboration with International Weightlifting Federation arranged a seminar in Moscow. The event was braced by Russian Olympic Committee, Russian Sports Ministry, WADA, RUSADA and CCES. 
The main objective of this symposium was to give assistance to all National Federations and the delegates from Russian Weightlifting Federation to get them familiarized with practices to tackle doping and provide education with the aim of guaranteeing a fair sport. 
A total of 11 National Federations, inclusive with those 9 that were banned by IWF because of their doping infringement in Olympic Games held in year 2008 and 2012. Countries which participated in Beijing 2008 and London 2012 were evicted because of the drug offences and are banned till October 2019. 
Throughout the session, the participants were given top-notch information, which would aid and abet the culture of doping and bring about constructive anti-doping programs. 
Lectures were delivered by the IWF, WADA, CCES, and by the hosts: The Russian Weightlifting Federation and the Russian Anti-Doping Agency (RUSADA). Following issues were highlighted:  
biomedical support for athletes. 

electronic diary management for athletes and coaches. 

education and training of sports personnel. 
measures to prevent possible doping violations. 
IWF Director General Attila Adamfi stated: "We are pleased that this state-of-the-art training discussions, we could unite all the significant sponsors, including WADA, Russian Olympic Committee and Sports Ministry, and relevant NADOs, the RUSADA and CCES. We thank our host, the Russian Weightlifting Federation for organising this event. 
Director General IWF is also of the opinion that it is the responsibility of all the National Federations to ensure a fair sport.
 Forums like these are necessary to educate people and raise awareness that why is it important for all the athletes to stay clean. Through dedication and commitment, prolific anti-doping programs can be implemented in countries that are facing 
doping
 issues
Maxim Agapitov, RFWF President said:
"Russia is committed to 
being
 a reliable partner of the IWF. Today the RWF demonstrated this as we continue to look for ways to combat the problem of doping. We have created the most advanced educational system for our athletes and coaches and analyzed and identified the main causes of doping in our sport. We revealed a lot of facts that require investigation and we will hold them. We hope the Russian Weightlifting Federation has made a breakthrough and our seminar can be an example for such kind of events."
Its baffling to completely eliminate doping in games. The underlining factor is how athletes should be trained, recognized and made aware of the repercussions about doping. For a lengthy period of time, prevention will demonstrate to be an extra well-organized means to combat doping 
IWF has engaged itself in organizing a lot of seminars/conferences on the matter to help athletes. A Clean Sport Commission's report was submitted in December 2017, in which a number of endorsements were implemented, the latest of which are "Anti-Doping Policy".