Today a total of 3 matches were held of the ongoing FIFA World Cup 2018.The match wise highlights are appended below.
World Cup 2018: Day 3 – Matches – Summary & Highlights
FIFA World Cup 2018 – M9: Costa Rica Vs Serbia 0-1
Highlights:
WC '18 – Match 9: Costa Rica Vs Serbia
Result: 0-1
Goal Scorers:
Serbia: Aleksandar Kolarov 56′
Highlights:
Costa Rica briefly threatened to score in the 1st half against Serbia but couldn't muster up a goal.
Serbia also couldn't score the opening goal and the score at the end of 1st half was 0 – 0.
Both teams regrouped and planned to come back strong in the 2nd half.
After the break, the 2nd half went underway and at the 56th minute Costa Rica's David Guzman got a yellow card and Serbia was awarded a free-kick.
Subsequently, Serbia's free-kick specialist, Kolarov took the shot and scored a stunning goal as he bent the ball into the top corner in the nets.


Aleksandar Kolarov free kick goal from the stands. Absolutely fantastic. pic.twitter.com/o9PR1Jl9xk

— Okto Dasa Matra Suharjo (@oktodasa) June 17, 2018
Serbia were now leading by 1 – 0. Various substitutions were made after this goal as Costa Rica searched for an equalizer.
But, despite several chances and 8 minutes being awarded in the 2nd halves injury time, Costa Rica couldn't score and Serbia won their opening World Cup 2018 match.
? | Aleksandar Kolarov after winning the @Budweiser #ManoftheMatch #WorldCup #CRCSRB

Keep watching the clip, you'll catch his great goal! pic.twitter.com/6nkqSGb0cr

— FIFA World Cup ? (@FIFAWorldCup) June 17, 2018
When i see all albanian tweets against Serbia pic.twitter.com/rND9PbQIlp

— Marko BC ⚽ ?? (@Sxrbian) June 17, 2018
Novak Djokovic a happy man in the player lounge after watching Serbia edge Costa Rica 1-0. Due to speak to the media for the first time since "Interview Room 2" later this afternoon.

— Stuart Fraser (@stu_fraser) June 17, 2018
Croatia and Serbia with World Cup group stage wins while the Bosnian team is probably herding sheep smh

— Husein Kovacevic (@HusoKuro) June 17, 2018
FIFA World Cup 2018 – M10: Germany Vs Mexico 0-1
Highlights:
WC '18 – Match 10: Germany Vs Mexico 0-1
Result: 0-1
Goal Scorers:
Mexico: Hirving Lozano 35'
Highlights:
The defending champions of this World Cup, Germany started off their campaign against Mexico as the clear favorites to win this match.
But, the Mexican team stunned the Germans as Hirving Lozano struck at the 35th minute to put his team in the lead.
Mexico's Hirving Lozano scores the winner as Mexico beats #WorldCup holders Germany https://t.co/MUnlAu1PjC pic.twitter.com/2WJudsW2yx

— Reuters Top News (@Reuters) June 17, 2018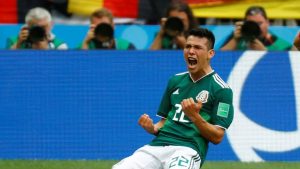 Germany's strikers began to take their shots in order to equalize but they were completely blocked by the Mexicans who were constantly blocking off their attacks.
At the end of 1st half Mexico were ahead by 1-0.
The 2nd half went underway and Germany continued to dominate the possession and shots at the goal.
But, none of it was helping as Mexico stood like a wall before them.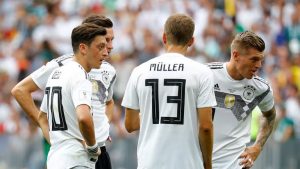 With only several minutes of play left, Germany strikers intensified their attacks but couldn't score.
And, this is how the defending champions of World Cup 2018 lost their opening match against the underdogs; Mexico.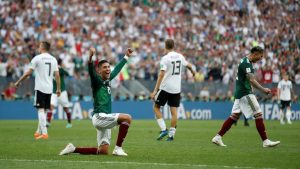 FULL-TIME
?? Germany 0-1?? Mexico (35′ Lozano H. ) How far can ?? Germany go at the World Cup? Group Stages Round of 16
Quarter Finals
Semi Finals
Finals
Third Place play-offs LATER ??Brazil ??Switzerland 9PM Earlier FT ?? Costa Rica 0-1 ?? Serbia #WorldCup18 pic.twitter.com/U06I4Io5IQ

— Game Yetu (@GameYetu) June 17, 2018
I can cheer for Hirving Lozano. I can't root for Rafa Marquez.

— Bill Barnwell (@billbarnwell) June 17, 2018
Mexico fans created an EARTHQUAKE in Mexico City after Hirving Lozano winner against Germany https://t.co/sUnyAMLopU pic.twitter.com/MHTX76zrTT

— The Sun Football ⚽ (@TheSunFootball) June 17, 2018
IF YOU DON'T LOVE FOOTBALL, IT'S YOUR LOSS‼‼

HISTORY IN FRONT OF YOUR VERY EYES ‼‼

Mexico ?? beat the defending champions Germany??
1-0️⃣ 0 after Hirving Lozano scored in the first half for El Tri.#WorldCup #Rusia2018 #GERMEX pic.twitter.com/i5IGR4aA5t

— FOOTY Talkss (@FOOTY_Talkss) June 17, 2018
German newspaper today:
"Sorry Mexico, today we build the wall"

Karma's:
México beat Germany in the #WorldCup #GERMEX 0-1 pic.twitter.com/jPLFkT7WG0

— Nadia (@NadiaShah24) June 17, 2018
IMAGE: Artificial earthquake registered in Mexico when the country's national team scored against Germany. pic.twitter.com/wy9hMGaQbi

— The Spectator Index (@spectatorindex) June 17, 2018
me: soccer is cool ig
mexico: /wins against germany/
me: pic.twitter.com/wbLMUozOQT

— mauricio (@sIowpoked) June 17, 2018
#WorldCup Sane watching Germany lose earlier pic.twitter.com/OIFBcwCIaJ

— Phosa Thando KaHlatswayo (@ka_hlatshwayo) June 17, 2018
lovely scenes outside luzhniki after mexico defeats defending champs germany pic.twitter.com/3rYAaiRYjq

— Evan Gershkovich (@evangershkovich) June 17, 2018
FIFA World Cup 2018 – M11: Brazil Vs Switzerland 1-0
Highlights:
WC '18 – Match 11: Brazil Vs Switzerland
Result: 1-0
Goal Scorers:
Brazil: Phillipe Coutinho 20′
Switzerland: Steven Ruben 50′
Highlights:
One of this year's World Cup favourites, Brazil started their campaign with a goal in the 1st half; courtesy Phillipe Coutinho.
GOAL! What a strike from Coutinho as his shot flies past Sommer to give Brazil the lead! pic.twitter.com/6aQONVsnG8

— ITV Football (@itvfootball) 17 June 2018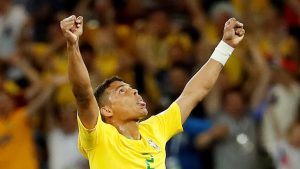 Despite getting close, Switzerland did not manage to equalise the score and the 2nd half ended with Brazil in the lead.
But, in the 2nd half, Switzerland converted their chances as Shaqiri's powerful cross was headed into the goal by mid-fielder, Steven Zuber.
WATCH: Here's the header from Steven Zuber that shocked #BRA and earned #SUI a 1-1 draw in Rostov.
For all #WorldCup highlights >> https://t.co/Ortmv3vHzS pic.twitter.com/oFTQay51AJ

— SuperSport ⚽? (@SuperSportTV) 17 June 2018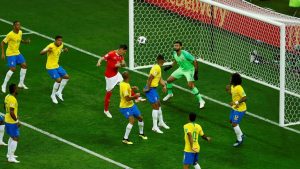 The scores were now equal. Brazil needed a tie-breaker to win, but they wasted most of their chances as Switzerland forced them to draw this match.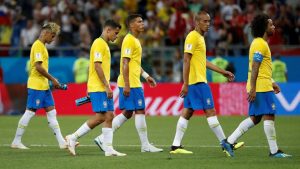 Brazil was treated unfairly throughout this game! I apologize to all Brazil fans, this game was a right mess. We've all just witnessed the worlds worst referee.

— Rhys Matthew Bond (@RhysMatthewBond) 17 June 2018
It is so kind of Brazil to underperform just like us.

— Leo (@moon_and_sunny) 17 June 2018
brazil in friendly matches vs brazil in world cup pic.twitter.com/A2YrqJYSmz

— mwingarae_jr (@Emmilgeorge) 17 June 2018
When everyone expected Brazil to turn up big but what they really turned out to be like ?#FifaWorldCup2018 #BRASUI #BRA #SUI pic.twitter.com/MesLwXHeZq

— Mayank (@incredlBale) 17 June 2018
Neymar during Brazil vs Switzerland #BRASUI pic.twitter.com/7eTxxIjgqW

— Kazembe Kazembe jnr (@chikungwa_) 17 June 2018
Join allsportspk tomorrow for the next matches of the ongoing FIFA World Cup 2018.