In a remarkable final, Luca Brecel of Belgium was crowned World Snooker Champion 2023 by denying 4-Times world champion Mark Selby of England his Fifth World Title. The 28 years old new king of world snooker's aggressive style overcame the safety oriented play of the Englishman. Luca won 18 – 15 (35) in a contest which threatened to go to the wire first time since 2002 when Peter Ebdon defeated Stephen Hendry 18 – 17.
The Champion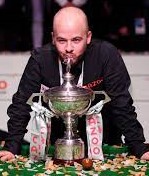 Incredibly, Luca Brecel, who in 2012, at the age of 17 years, became the youngest player ever to participate in this tournament, had never progressed beyond first round in his five previous attempts. Even this time, in first round, margin of his victory over Ricky Walden was 10 – 9. Luca termed his progress as phenomenal. His semifinal against Si Jiahui was a true testimony as he overcame a deficit of 9 frames to come from behind and win. The Belgian has won Half a Million British Pounds for his maiden world title and risen to No. 2 in the world ranking. Luca termed the final amazing. He praised Selby for his persistence, perseverance and tactical acumen. He said that it was really difficult to keep him under check. Though Luca took significant leads twice, winning a number of games, Selby counter-attacked and at 16 – 15, the contest was evenly poised. In his turn, Selby was generous in his praise for Luca and congratulated him heartily.
Snooker World Championship 2020: Ronnie O'Sullivan Wins Final By 18-8
The Tournament
The World Snooker Championship 2023 took place at Crucible Theatre in Sheffield, England from 15th April to 1st May 2023. It was the 47th consecutive year that this event was held at this venue. Organized by the World Snooker Tour, the total prize money was nearly $3 Million out of which the winner received $623,000. 16 top ranked players of the world were joined by 16 qualifiers in the final round. Ronnie O'Sullivan was the defending champion in this tournament in which several records were made and broken.
Ronnie O'Sullivan made a record 31st appearance at the Crucible, passing the joint 30 appearance record with Steve Davis. He made his 200th century break at the Crucible and 1200th century break in professional competitions during the tournament. And also made a record-extending 21st quarterfinal at this event.
Two debutants at the event, Jak Jones and Si Jiahui progressed to the quarterfinals. First time since 1988 that two Crucible debutants reach last eight. Si advanced to the semifinals, becoming the youngest debutant to do so, at the age of 20 years.
Eventual champion Brecel came from 5 – 14 behind to defeat Si 17 – 15 in the semifinal. First time that a player won a match at Crucible after trailing by 9 frames.
Brecel became the first player from mainland Europe to win the title and only the 4th from outside UK to do so after Canada's Cliff Thorburn, Ireland's Ken Doherty and Australia's Neil Robertson.
Two maximum breaks of 147 were made in the tournament. Kyren Wilson did it in the first round and Mark Selby became the first person to make a maximum in the final of a World Championship.