The 11th Faldo Series Pakistan Golf Trials will keep little ones and youthful aspirants engaged and engrossed over the next three days, from 31st December to 2nd January at the championship golf course of Airmen Golf and Country Club Golf Course, Korangi, Karachi.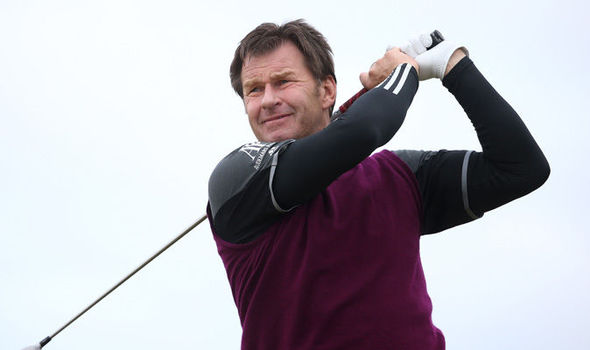 The big attractions for the young golfers is that the best player in each age category will qualify to take part in the Faldo Series Asia Grand Final to be held in Viet Nam in March 2022, and also will be able to interact with Sir Nick Faldo (Scroll down for Bio).
These three days trials are open to all male and female amateur golfers who fall in the age bracket 21 years and below and the eligible strivers will be assigned an age category according to their year of birth. And the age categories are under 21 years and up to 18 years, U18 years and up to 16 years, U16 years and up to 12 years. As for the female contestants the age categories are under 21 years and up to 16 years and another category is U 16 years and up to 12 years.
The Nick Faldo Golf Trials will be regulated by Asad I.A. Khan Vice President, Pakistan Golf Federation as Tournament Director and Chief Referee will be the internationally qualified Referee Col (r) Zahid Iqbal of Sind Golf Association.
Format of these three days trials is stroke play basis and all the players who have registered will fight it out over three rounds of intense golfing activity. While the overall trophy will go to the player with the best gross score over three rounds that adds up to 54 holes, there are also prizes for the best gross in each age category. The runners up will also be awarded a trophy in each age category.
Pakistan Golf Calendar 2021-22 Season: Amended Version
Sir Nicholas Alexander Faldo is an English professional golfer and television commentator. and a top player of his era, renowned for his dedication to the game. He was ranked No. 1 on the Official World Golf Ranking for a total of 97 weeks and his 41 professional wins include 30 victories on the European Tour and six major championships. Out of these three were Open Championships (1987, 1990, 1992) and three Masters (1989, 1990, 1996).
For the benefit of youngsters Nick Faldos attributes included his distance control, course management and his strong competitive mind and was renowned for his single minded dedication to the game. Nick Faldo endeavors to foster and nurture adroit and gifted hopefuls though this activity. Already Pakistan has benefited from this and our golf professional Ahmed Baig, a product of Nick Faldo Series is doing wonders on the national golf circuit of Pakistan. The Boys of all age groups will tee off from the blue tees and the girls will tee off from the Red Tees.
Participants include hopefuls from all the major golf playing centers of Pakistan and they all look keen to enjoy and counter the challenge of the Airmen Golf and Country Club Golf Course. Such competitive golfing activity will be remembered by the emergence of a crop of young golfers capable of taking up professional golf as a career.