Master Paints and Remounts qualified for the semifinals of the 1st President of Pakistan National Open Polo Championship 2022 sponsored by MidCity.
They will play against the two other teams which have already as semi finalist after 14th March matches.
1st Quarter Final – Paints Vs FG Polo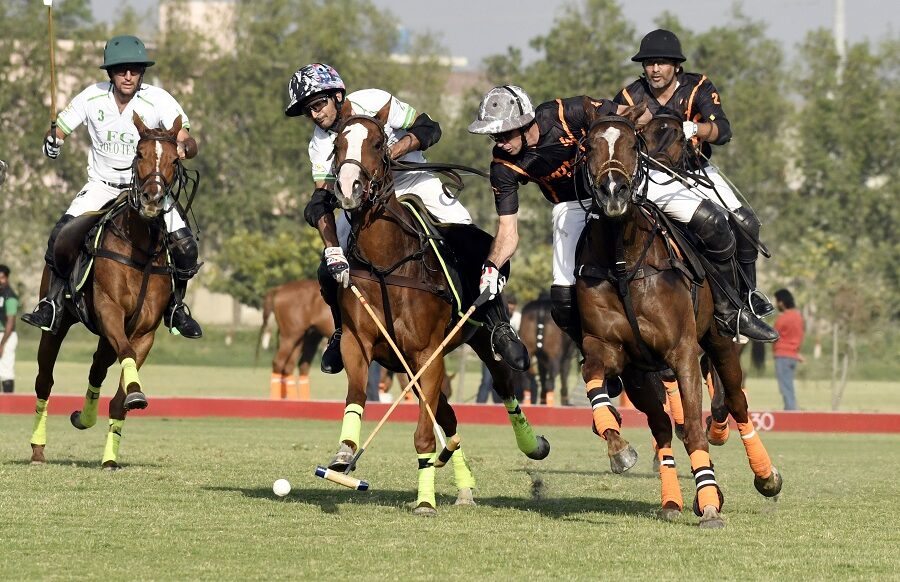 Master Paints were up against favorite FG Polo and they played outstanding polo and outsmarted their opponents by a close margin of 9-7. Marcos stole the show for Master Paints as his heroics helped his side emerge as triumphant. He smashed in superb seven goals for the winning team while Martin Carlos also played well and thrashed in two significant goals for Master Paints.
For FG Polo, Juan Ambroggio though tried hard and converted an impressive hat-trick but he got injured and was replaced by Horacio Carlos, who also contributed with a beautiful brace and Waqas Khan and Ramiro Zavaleta scored one goal each but their efforts couldn't bear fruit for their side, thus lost the quarterfinal by 7-9. Now Master Paints will compete against Newage Cables/Master Paints in the semifinal on Friday (March 18).
Master Paints were off to a flying start as they hammered a hat-trick to gain 3-0 lead while FG Polo then converted one to finish the first chukker at 1-3. FG Polo dominated the second chukker by thrashing in three back-to-back goals to take a slight 4-3 lead. Master Paints then made a tremendous comeback by firing in four fantastic goals one after another to earn a healthy 7-4 lead. FG Polo also bounced back well by converting two goals – one in the dying moments of the third chukker and one in the beginning of the fourth chukker – to reduce the deficit to 6-7. Master Paints then added one more in their tally to finish the fourth chukker having 8-6 lead. Both the sides converted one goal each in fifth and last chukker, with Master Paints winning the match by 9-7.
2nd Quarter Final – Remounts Vs HN Polo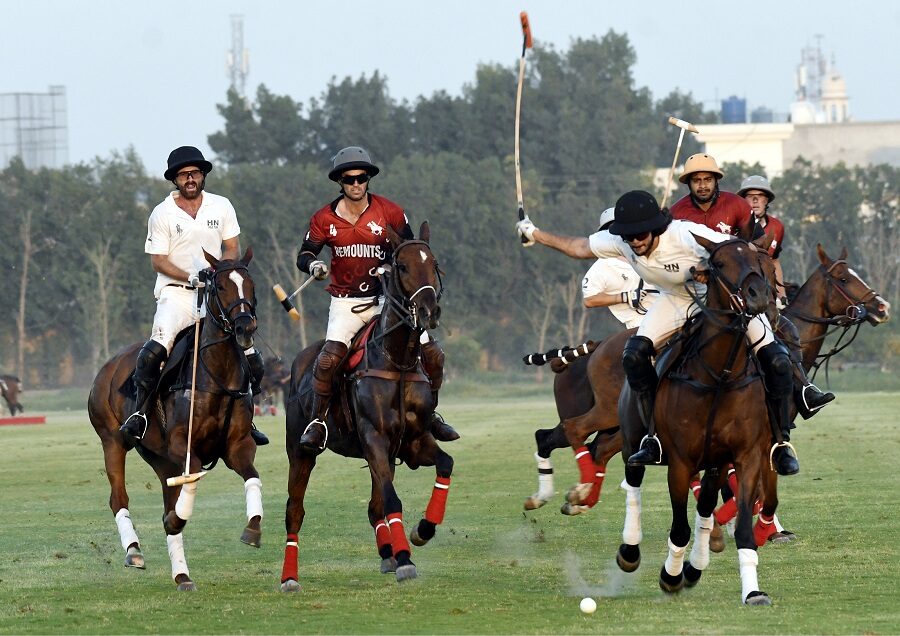 The day's second quarterfinal proved a nail-biting encounter which was tied at 7-7 at the end of the fifth chukker and then was decided in the sudden death chukker, where hero of the day Simon Prado fired in the match-winning goal to guide Remounts to a narrow 8-7 victory over HN Polo.
Simon Prado did the magic with his mallet and polo pony throughout the match and succeeded in hammering four fantabulous goals for his side. His teammates Nico Roberts and Mumtaz Abbas Niazi also played key role in their team's triumph as they contributed with three and one goal respectively. For team HN Polo, Tito Ruiz Guinazo was the prominent player who smashed in superb five goals while Saqib Khan Khakwani converted the remaining two goals, but that contribution was futile in the end. Now Remounts will vie against Diamond Paints in the semifinal on Friday (March 18).
HN Polo opened their account by converting a 40-yard penalty to take 1-0 lead but Remounts then launched a series of attack on HN Polo's goal and succeeded in banging in a brace to earn a slight 2-1 lead by the end of the first chukker. The second chukker was evenly poised as one goal each was scored by both the teams with Remounts still enjoying a slight 3-2 lead. HN Polo played comparatively better polo in the third chukker as they converted three goals against tow by Remounts to level the score at 5-5.
Remounts dominated the fourth chukker by thrashing in two back-to-back goals to take 7-5 lead. HN Polo made a strong comeback in the fifth chukker by smashing in two back-to-back goals to finish the chukker at 7-7. The match was then decided in sudden death chukker where star of the day Simon Prado smashed in the match-winner to steer his side to a thrilling 8-7 win.
جناح پولو فیلڈز کے زیراہتمام فرسٹ پریذیڈنٹ آف پاکستان نیشنل اوپن پولو چیمپئن شپ 2022ء کے پہلے کوارٹرفائنل میں ماسٹر پینٹس نے ایف جی پولو کو اور دوسرے کوارٹرفائنل میں ری ماؤنٹس نے سڈن ڈیتھ پر ایچ این پولو کو ہرا کر سیمی فائنل کیلئے کوالیفائی کرلیا۔ تفصیلات کے مطابق جناح پولو فیلڈز میں نیشنل اوپن کے کوارٹرفائنلز دیکھنے کیلئے تماشائیوں کی بڑی تعداد موجود تھی۔ اس موقع پر مڈ سٹی ہاؤسنگ کی برانڈ مینجر مہرین سرور، سوزوکی موٹرز ز اور عسکری بینک کے نمائندے بھی موجود تھے۔ پہلے کوارٹرفائنل میں ماسٹر پینٹس نے فیورٹ ایف جی پولو کی ٹیم کو 9-7 سے ہرا دیا۔ ماسٹر پینٹس کی طرف سے مارکوس پنیلو نے شاندار کھیل پیش کیا اور سات خوبصورت گول سکور کیے دیگر میں مارٹن کارلوس نے دو گول سکور کیے۔ ایف جی پولو کی طرف سے خوانچی امبرگیو دوسر ے چکر میں زخمی ہو کر باہر بیٹھ گئے اور پھر پانچویں چکر میں ٹیم میں واپس آئے۔ خوانچی امبراگیو نے 3، ان کی جگہ دو چکرز کھیلنے والے ہرکیو کارلوس نے 2، وقاص خان اور رومیروزیولیٹا نے ایک ایک گول سکور کیا۔ اس طرح ماسٹر پینٹس کی ٹیم سیمی فائنل میں نیوایج کیبلز /ماسٹر پینٹس کا مقابلہ کرے گی۔ دوسرے کوارٹرفائنل میں ری ماؤنٹس کی ٹیم نے انتہائی سنسنی خیز مقابلے کے بعد چھٹے چکر میں سڈن ڈیتھ پر 8-7 سے ہرا دیا۔ ری ماؤنٹس کی طرف سے صائمن پراڈو نے شاندار کھیل پیش کیا اور چار گول سکور کیے دیگر میں نکو رابٹس نے تین، ممتاز عباس نیازی نے ایک گول سکور کیا۔ایچ این پولو کی طرف سے ٹی ٹو رئیوز گنزو نے پانچ، ثاقب خان خاکوانی نے دو گول سکور کیے۔ اس طرح ری ماؤنٹس سیمی فائنل میں ڈائمنڈ پینٹس سے جمعتہ المبارک کو مقابلہ کرے گی۔