The two weeks Lahore Open Polo Championship concluded with Barry's/BN2 clinching the 2021 Trophy by defeating Remounts 6-5, in a thrilling Final. The 3rd position subsidiary final was won by Diamond Paints/Sheikhoo Steel team.
Both the teams were strong enough to give tough time to each other and fought hard till the end and when the final whistle was blown at the end of the fourth chukker, the score was draw at 4-4. The match was then decided in the sudden death chukker, where once again a tough fight was witnessed before Ernesto Trotz smashing in the match-winning goal for Barry's/BN 2 to claim the coveted Lahore Open Polo trophy.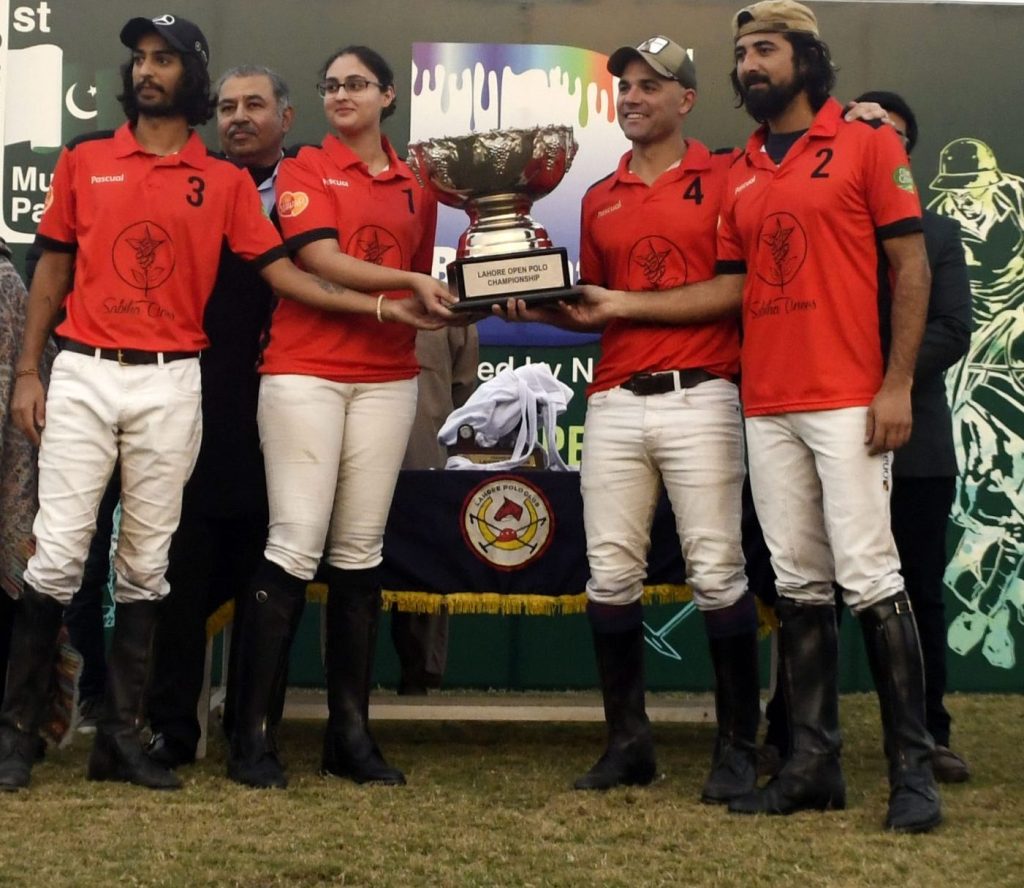 Ernesto Oscar Trotz was the hero of the final as he played superb polo with quality horse and mallet work and fired in fabulous four goals from the winning side. The other key contributors from team Barry's/BN 2 were Hamza Mawaz Khan and Babar Naseem, who added one goal apiece in the total tally.
The players of team Remounts also did well with pony and mallet and inspired with their convincing performances but they failed to finish the match in their team's favour. ALD (R) Imran Shahid was top scorer from the losing side with a contribution of two goals while SWR (R) Muhammad Naeem, Raja Temur Nadeem and Babar Naseem pumped in one goal each. 
December Polo Cup 2017: United Snacks Wins
ALD (R) Imran Shahid was declared as the best player of the main final while veteran shinning star Raja Sami Ullah of HN Polo Team earned the honour of smashing maximum goals in the tournament and the best pony of the final was Feberota of Team Barry's/BN 2.   
Earlier in the subsidiary final, Diamond Paints/Sheikhoo Steel defeated Coca Cola Polo Team by a narrow margin of 7-6. Surprisingly, the subsidiary final also completed in the sudden death chukker. Andres Llorente emerged as top scorer with three goals while Saqib Khan Khakwani banged in a brace and Mir Huzaifa Ahmed and Osman Aziz Anwar struck one goal each. From the losing side, Tomas Reinoso cracked a quartet while Waqas Khan and Abbas Mukhtar scored one goal apiece. 
The concluding ceremony of the tournament was graced by Bright Paints Director Khawaja Bilal Ahmad Sikka as chief guest, who distributed prizes among the winners and top performers.

لاہور (سپورٹس رپورٹر) لاہور پولو کلب کے زیراہتمام برائیٹو پینٹس لاہور اوپن پولو چیمپئن شپ 2021ء کا فائنل انتہائی سنسنی خیز مقابلے کے بعد سڈن ڈیتھ پر پانچویں چکر میں ٹیم باڑیز /بی این ٹو نے جیت لیا۔ فائنل میں ٹیم ری ماؤنٹس کوشکست کا سامنا کرنا پڑا۔ ڈائمنڈ پینٹس /شیخو کی ٹیم نے سب سڈری فائنل جیت لیا۔ تفصیلات کے مطابق لاہور پولو کلب میں برائیٹو پینٹس کے تعاون سے منعقدہ لاہور اوپن کا فائنل دیکھنے کیلئے تماشائیوں کی بڑی تعداد موجود تھی۔ اس موقع پر برائیٹو پینٹس کے ڈائریکٹر خواجہ بلال سکا، برانڈ مینجر علی خان، لاہور پولو کلب کے صدر عمر صادق، سیکرٹری آٰغا مرتضی علی خان، ایگزیکٹو کمیٹی ممبرز فیروز گلزار، شاہ قبلائی عالم، ثاقب خان خاکوانی،آغا نجیب رضا اور تماشائیوں کی بڑی تعداد موجود تھی۔ پچھلے چار آٹھ گول کے فائنل جیتنے والی ٹیم ری ماؤنٹس نے باڑیز /بی این ٹو کے خلاف زبردست مقابلہ کیا۔ چوتھے چکر تک دونوں ٹیموں کے درمیان مقابلہ 5-5 گول سے برابر تھا پانچویں چکر میں ٹیم باڑیز /بی این ٹو کی ٹیم نے گول کرکے لاہور اوپن چیمپئن شپ جیت لی۔ ٹیم باڑیز /بی این ٹو کی طرف سے ارینسٹو ٹروٹز نے چار، حمزہ مواز خان اور بابر نسیم نے ایک ایک گول سکور کیا۔ ہارنے والی ٹیم ری ماؤنٹس کی طرف سے عمران شاہد نے دو، سوار نعیم، راجہ تیمور اور نکلوس نے ایک ایک گول سکور کیا۔ قبل ازیں سب سڈری فائنل میں ٹیم ڈائمنڈ پینٹس /شیخو نے کوکاکولا پولو ٹیم کو 7-6 سے پانچویں چکر میں سڈن ڈیتھ پر ہرایا۔ اختتامی تقریب میں برائیٹو پینٹس کے ڈائریکٹر خواجہ بلال احمدنے کھلاڑیوں میں انعامات تقسیم کیے۔ میچ کا بہترین کھلاڑی ری ماؤنٹس کے عمران شاہد کو دیا گیا۔ٹورنامنٹ میں سب سے زیادہ گول ایچ این پولو ٹیم کے راجہ سمیع اللہ نے سکور کیے۔ فائنل کی بہترین گھوڑی ٹیم باڑیز کی فیبروٹا کو دیا گیا۔