All-round HN Polo Team clinched the prestigious trophy after edging out Newage Cables/Master Paints by a narrow margin of 9-8 in the main final of the Tower 21 Quaid-e-Azam Gold Cup Open 2022.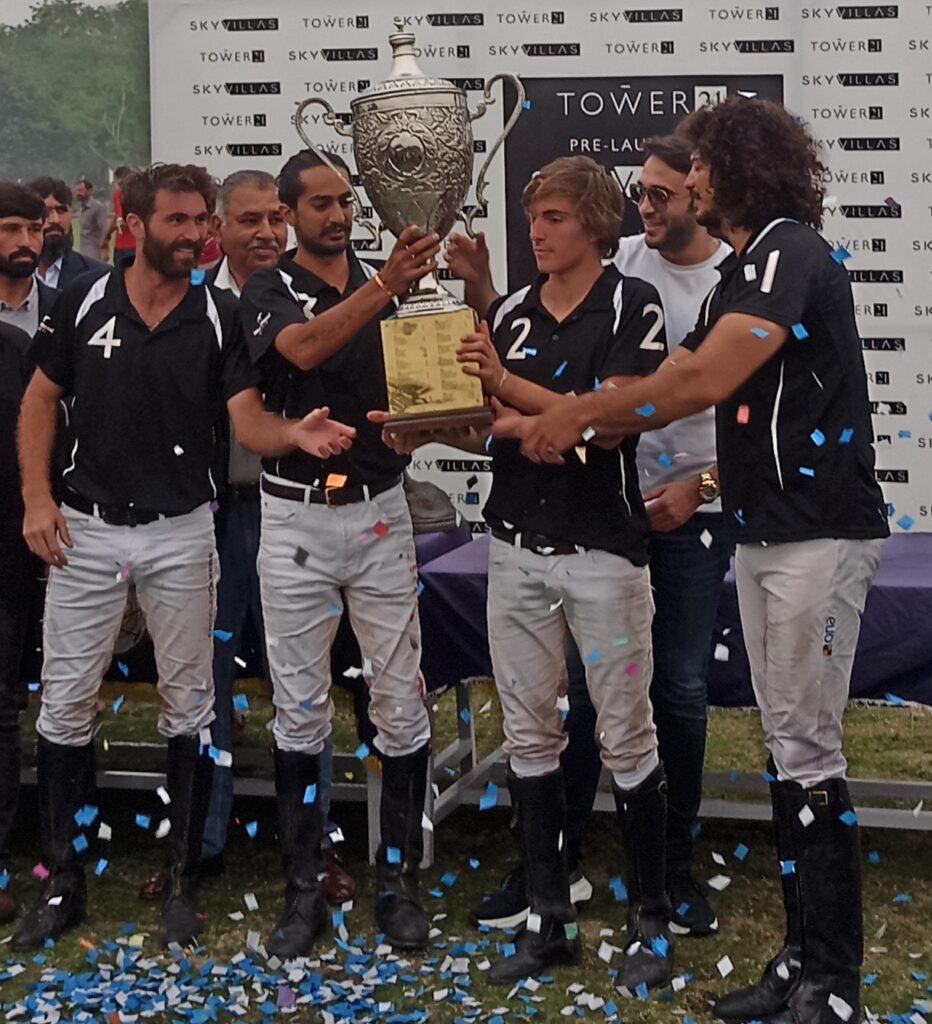 The grand finale of the grand event of Lahore Polo Club proved to be a battle royal, where both the teams fought for each and every goal till the end and when the final whistle was blown, the match was tied at 8-all. The nail-biting final was then decided in the sudden death chukker, where once again a tough fight was witnessed both the high-flying sides and it was hero of the day Tito Ruiz Guinazu, who got the honour of smashing in the match-winning goal and won his maiden Quaid-e-Azam Gold Cup of his career so far in Pakistan.
Talking to media after registering title victory, Tito Ruiz Guinazu said: "As I was struggling to win this prestigious event for a couple of years, finally, I have won this Quaid-e-Azam Cup. We all played well like a unit and it was hard work as well as team work, which helped us win this title. Credit goes to all the boys, who played so well in the final and we are very happy with this win. The final was very excited especially the last chukker, when the match-winning goal was scored and we won the trophy."
Quaid-e-Azam Gold Cup 2018-Final: Master/Rizvi's Electrifying Win
Hamza Mawaz Khan, who playing in place of injured Raja Sami Ullah, was the player who also stole the show for HN Polo as he made a major contribution of fabulous four goals in for HN Polo's tally to emerge as top scorer while his teammates Tito Ruiz Guinazu and his younger brother Hilario Ruiz Guinazu contributed with two important goals each while Haider Naseem also converted one goal for the winners.
Newage Cables/Master Paints also played superb polo and fought for each and every goal till the end and they remained successful in finishing the fifth and last chukker at 8-all. But the sudden chukker saw HN Polo's Tito Ruiz Guinazu shinning with mallet and pony and pumping in the match-winning goal, thus Newage Cables/Master Paints finished as runners-up. Gonazlo Deltour was the top scorer for the losing team as he contributed with four fantastic goals while his teammates Vieri Antinori hammered a hat-trick of goals and Alman Jalil Azam struck one goal.
Earlier in the subsidiary final, DS Polo/Rizvi's defeated FG Polo Team by a close margin of 4-3. Max Charlton emerged as star of the day for DS Polo/Rizvi's as he hammered all the four goals while Waqas Khan and Ramiro Zaveletta played well for FG Polo Team by converting two and one goal respectively.
Other Awards
The best foreign player award was given to Tito Ruiz Guinazu of HN Polo
The best Pakistani player award was claimed by Raja Temur Nadeem
Life Time Achievement award by former LPC President Abdul Qadir Mamdot
Emerging player award was won by Ibrahim Sultan
The spirit of polo award by Faisal Tarrar, in 0-2 category the award winner was Hussain Monnoo
The 2-goal category award went to Imran Shahid and the he 4-2 category award was lifted by Hamza Mawaz Khan and Ahmed Ali Tiwana
The awards were also distributed among Lahore Polo Club office management as Muhammad Irfan Superintendent and Accounts Manager, Imran Iqbal Polo Manager and Faisal Mehmood Assistant Accounts Manager.
The best playing polo pony (foreign) was Camila owned by Haider Naseem and played by Tito Ruiz.
The best playing polo pony was Buraq 599 owned by Remounts and played by Simon Prado.
لاہور پولو کلب کے زیراہتمام ٹاور 21 قائداعظم گولڈ کپ اوپن 2022ء کا فائنل ایچ این پولو نے جیت لیا۔ فائنل میں دلچسپ مقابلے کے بعدسڈن ڈیتھ پرچھٹے چکر میں نیوایج کیبلز/ماسٹر پینٹس کی ٹیم کو 9-8 سے شکست کا سامنا کرنا پڑا۔ ادھر ڈی ایس پولو /رضویز نے سب سڈری فائنل میں میدان مار لیا۔ تفصیلات کے مطابق لاہور پولو کلب میں پولو کا فائنل دیکھنے کیلئے تماشائیوں کی ایک بہت بڑی تعداد موجود تھی۔ اس موقع پر مہمان خصوصی سی ای او ٹاور 21 حمزہ رضا ملک، مینجمنٹ ٹاور 21، لاہور پولو کلب کے صدر عمر صادق، سیکرٹری آغا مرتضی علی خان، ایگزیکٹو کمیٹی ممبرز اور تماشائیوں کی ایک بہت بڑی تعداد موجود تھی۔ فائنل میچ ایچ این پولو اور نیوایج کیبلز/ماسٹر پینٹس کے درمیان بہت ہی زبردست رہا۔ چھٹے چکر میں سڈن ڈیتھ پر ایچ این پولو کی ٹیم نے گول کرکے میچ 9-8 سے جیت لیا۔ ایچ این پولو کی طرف سے حمزہ مواز خان جو راجہ سمیع کی جگہ کھیل رہے تھے نے چار گول، ٹی ٹو رئیوز گنزو اور اس کے چھوٹے بھائی ہلیریو رئیوز نے دو دو گول جبکہ حیدر نسیم نے ایک گول سکور کیا۔ نیوایج کیبلز /ماسٹر پینٹس کی طرف سے گونزالو ڈیلٹور نے چار، انٹونیو ویری نے تین اور المان جلیل اعظم نے ایک گول سکور کیا۔ قبل ازیں سب سڈری فائنل میں ڈی ایس پولو /رضویز نے ایف جی پولو ٹیم کو 5-4 سے ہرا دیا۔ جیتنے والی ٹیم کی طرف سے میکس چالٹن نے پانچوں گول سکور کیے۔ اختتامی تقریب میں سال کے بہترین ایوارڈز تقسیم کیے گئے۔ بہترین غیرملکی کھلاڑی کا ایوارڈ ایچ این پولو کے ٹی ٹو رئیوز گنزو کو دیا گیا۔ پاکستانی بہترین کھلاڑی کا ایوارڈ راجہ تیمور ندیم کو دیا گیا۔ لائف ٹائم اچیومنٹ ایوارڈ سابق صدر کلب عبدالقادر ممدوٹ کو دیا گیا۔ ابھرتے ہوئے کھلاڑی کا ایوارڈ ابراہیم سلطان کو دیا گیا۔ سپرٹ آف پولو کا ایوارڈ فیصل تارڑ کو دیا گیا۔ 0–2 میں حسین منوں 2 گول کیٹگری میں عمران شاہد، 2-4 گول میں حمزہ مواز خان اور احمد علی ٹوانہ کو دیا گیا۔ لاہور پولو کلب کے آفس میں سپرٹنڈنٹ،اکاؤنٹس مینجر محمد عرفان، پولو مینجر محمد عمران اقبال، اسسٹنٹ اکاؤنٹس مینجر فیصل محمود، سال کے بہترین گروم کا ایوارڈ نیوایج کے پرویز خان کو، بہترین رائیڈرز کا ایوارڈ محمد منیر کو، رائیڈنگ سکول کا ایوارڈ منور اقبال کو دیا گیا۔