The Gladiators 22nd Inter School Scrabble Championship held at Karachi Expo Centre turned out to be the biggest single-day Scrabble tournament in the world with about 1200 players from more than 100 schools and colleges.
HHS-Happy Home School dominated the 22nd edition of the inter school championship by winning 4 of the first positions. A major factor is Waseem Khatri, Pakistan's Master Title winner being a full time scrabble coach at HHS. BVS Parsi High School having won 3 positions, kept the tradition of regularly producing young talent.
As a special talent recognition gesture, the sponsors – The Quetta Gladiators also honoured the the 'Young Masters' and the 'Reigning World Youth Champion.' Details appended below.
Players were divided in 8 age categories ranging from 8 to 20 years of age. The winners were: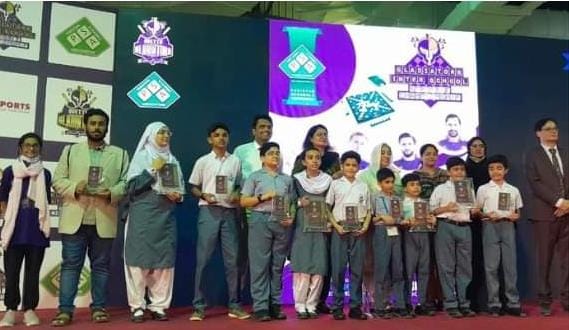 Category A 
Muhammad Ali Mansoor (Happy Home)
Category B 
Ali Fahad (BVS Parsi)
Category C 
Rayyan Lodhi (Army Public School)
Category D
Mohid Ayaz (Happy Home)
Category E 
Maaz Faridi (BVS Parsi)
Category F 
Ayesha Naqvi (Happy Home)
Category G 
Manhamah Mukarram (Happy Home)
Category H 
Mustajab Naseem (BVS Parsi)
The event was organized by the young volunteers of Pakistan Scrabble Association, after a two year gap due to COVID market the resumption of in-person tournaments.
The chief guest Mr. Nadeem Omar, franchise owner of Quetta Gladiators distributed prizes to the winners. Including honouring the two ten-year olds Ahmed Salman and Bilal Asher with the "Young Master" trophy for being selected to represent Pakistan in international tournaments.
Reigning world youth champion S. Imaad Ali was given a special prize by Mr. Nadeem Omar for being the only player in history to have won three world youth titles.