The 48th Pakistan Open Golf Championship moves into the final phase at the celebrated and renowned Karachi Golf Club Golf Course. The final round will be played on Sunday, 20th January.
At the conclusion of the third round in this four rounds National Golf Event, the dynamic flag bearer of our national golf, Muhammad Shabbir has placed himself at the top of the leader board. The first two rounds leader Waheed Baloch dropped to 4th position.
Shabbir's rivals seem docile and diffident as compared to his preparedness and technical strengths. He has thrust forward, looking invincible through a performance that is stupendous and commemorating.
During the third round he came up with a magical round of gross 63, helped by eight birdies and ten regulation pars and his aggregate for three days adds upto 200, thirteen under par and he is now six strokes ahead of his very young adversary Ahmed Baig. No doubt Ahmed Baig played brilliantly and so did top players like Matloob Ahmed, Latif Rafiq and Anser Mehmood but Shabbir was phenomenal in his pursuit of the national title.
Out of the top position holders, Shabbir Iqbal is at 200, Ahmed Baig at 206, Matloob Ahmed at 207, Waheed Baloch at 209, Latif Rafiq at 210 and four are at 211. These four are Anser Mehmood, Sajjad Khan, Mudassir Iqbal and M. Naeem.
Professionals – First 18 Positions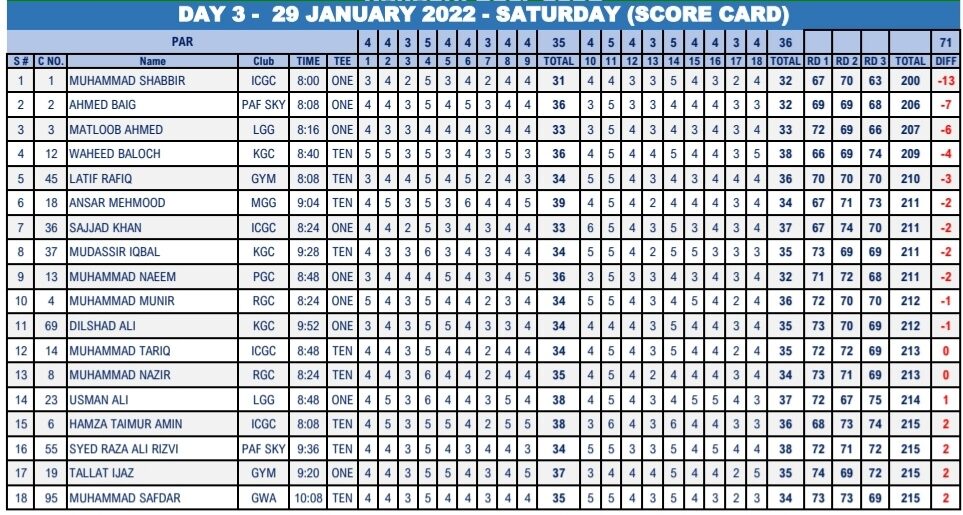 Senior Professionals – First 15 Positions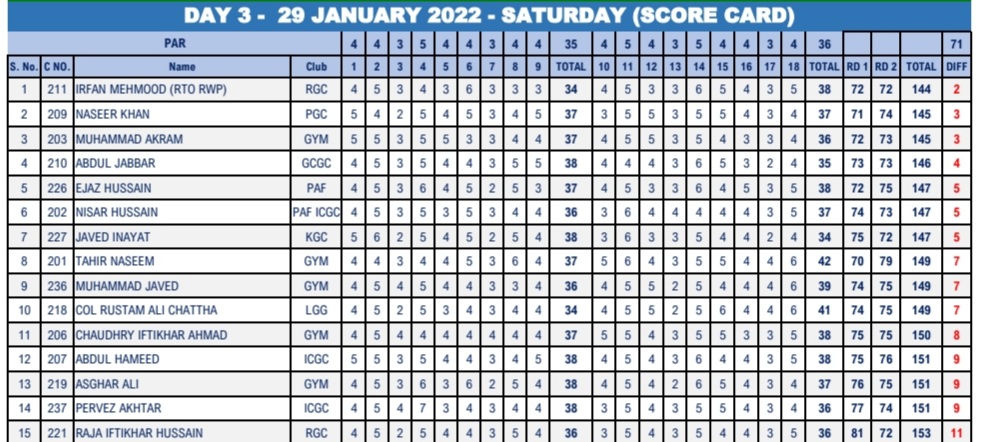 Junior Professionals