WBSC – World Baseball Softball Confederation confirmed that 9th WBSC Women's Baseball World Cup 2020 will be take place from 12th to 21st November in Tijuana, Mexico.
The original schedule of WBSC Women's Baseball World Cup was from 11th-20st September, and as the case with most of the global sports events, this event had to be rescheduled due to the coronavirus attack.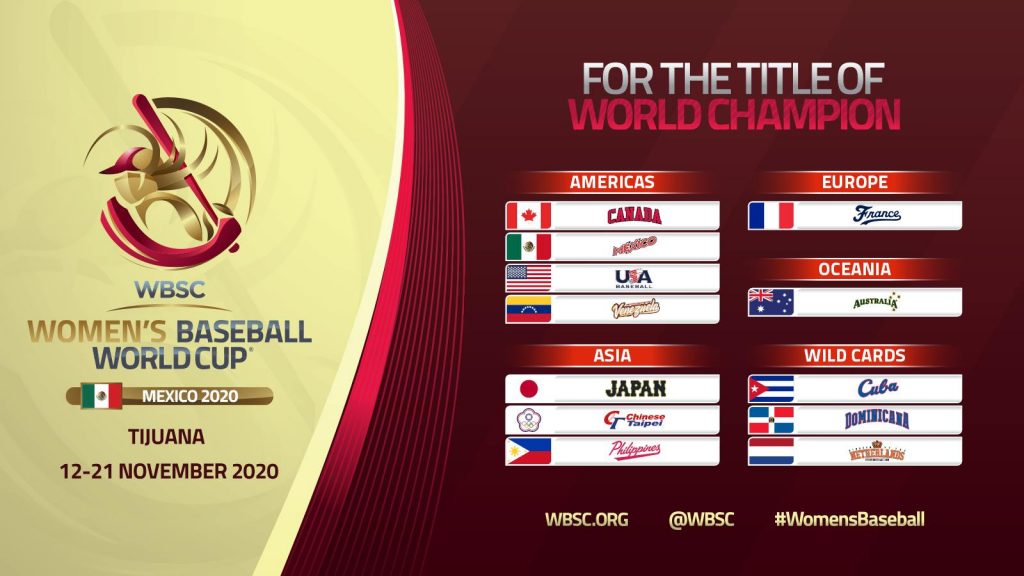 The 12 teams which will compete are:
AMERICAS (4): Canada, Mexico, USA and Venezuela
ASIA (3): Defending World Cup Champion Japan, Chinese Taipei and Philippines,
EUROPE (1) France
OCEANIA (1): Australia
WILD CARD (3): Cuba, Dominican Republic and Netherlands
The brief recap of the tournament history as per WBSC record is:
Japan's Women's National Baseball Team has been the winner of last six editions and will carry a 30-game World Cup winning streak into Tijuana.
Mexico, France and the Philippines will be making their first-ever appearance in the WBSC Women's Baseball World Cup.
France was the first National Team to qualify for the premier event in women's baseball, winning the inaugural European Women's Baseball Championship last year.
USA, Venezuela, Canada and Mexico qualified as the top four squads from the first-ever Pan-Am Women's Baseball Championship in 2019.
Japan, Chinese Taipei and the Philippines gained entry into the WBSC World Cup as the top three finishers from the Women's Baseball Asian Cup last November.
At the last Women's Baseball World Cup (2018), Japan topped Chinese Taipei in the Final, while Canada defeated USA for the bronze medal at the USSSA Space Coast Complex in Viera, Florida.
In 2016, Japan defeated Canada in the Final, while Venezuela walked-off with a bronze medal victory over Chinese Taipei at Hyundai Dream Ballpark in Gijang, Busan, Korea.
USA won the first two Women's Baseball World Cups (2004, 2006), with Japan finishing as the runner-up both times.
Rounding out the all-time medal table, silver medals have gone to Canada (2008, 2016), Australia (2010), USA (2012, 2014) and Chinese Taipei (2018). Canada has earned four bronze medals (2004, 2006, 2012 2018), USA two (2008, 2010), and Australia (2014) and Venezuela (2016) one each.
The Women's Baseball World Cup grew from a five-team (USA, Japan, Canada, Australia and Chinese Taipei) tournament in the inaugural edition in August 2004 in Edmonton, Canada, to seven teams in 2006 in Taipei (Cuba and Hong Kong made their debuts), to eight teams in 2008 in Matsuyama, Japan (the newcomer was India), to 11 teams in 2010 in Maracay, Venezuela (the host nation, Puerto Rico and Korea made their debut).
The number of participants was eight in 2012, when Australia and the Netherlands made first appearances in a Women's Baseball World Cup. A record 12 teams competed in 2016 in Gijang, with Pakistan making their debut. The Dominican Republic made their historic debut in 2018 in Viera, which also showcased the current 12-team format.