The winner of the GBP-Gazprom Brilliancy Prize was Spaniard Alexei Shirov.
Gazprom, is the sponsor of the Special Trophy and Brilliancy Prize which is awarded for the best game of the first Online Chess Olympiad competition.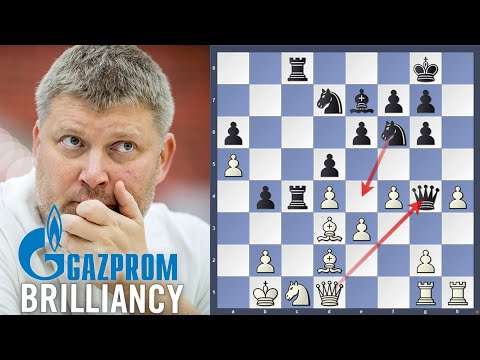 According to FIDE-International Chess Federation, the game that earned Alexei Shirov this prize was his victory with the Black pieces against Danyyil Dvirnyy.
This was in the Spain Vs Italy match which was held in the Division 2 – Pool C. The game was a Slav Defense in which Alexei came showed his uniqueness rather early in the game, 14…Qb8 instead of the queen's exchange proposal that implies the most common continuation 14…Qb6. Shirov's attack on the Queenside progressed much faster than Danyyil's advances on the Kingside, and the Spaniard Alexei attained a crushing victory in just 29 moves with an elegant checkmate thread following a Queen sacrifice.
This win was not unusual for the Spaniard due to his adamant style and fighting spirit. Besides, he is always willing to jump into the sharpest possible continuation that the position has to offer. He remains one of the most popular and fan puller chess players.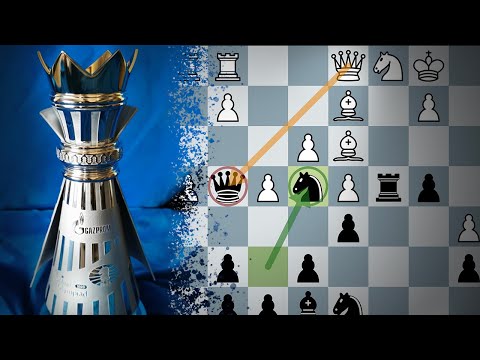 During the Online Olympiad, Alexei was in excellent form. He totaled 13 points in 15 games, with just 1 defeat and 2 draws.
For the Gazprom Brilliancy Prize, a panel of 14 popular Streamers and YouTubers was invited by FIDE to be the judges. Accoridng to the set rule each judge could give 3 points to their favourite game, 2 to their second favorite, and 1 to the third.
The final voting result ended with 10 of the 14 judges nominating Shirov's game as their best choice.

The Point-Results of each Final Games were:
-Dvirnyy – Shirov, 33 points
-Kapitanchuk – Kozak, 18 points
-Anand – Maghsoodloo, 10 points
-Noritsyn – So, 10 points
-Pavlidis – Ftacnik, 4 points
-Salman – Aziz, 4 points
-Xiong – Esipenko, 3 points
-Gunina – Gara, 1 point
-Zabi – Napoleao, 1 point
The Votes Given By Each Judge:

Anna Cramling (Sweden)
3 points: Dvirnyy – Shirov
2 points: Noritsyn – So
1 point: Kapitanchuk – Kozak
Anna-Maja Kazarian (Netherlands)
3 points: Noritsyn – So
2 points: Salman – Aziz
1 point: Zaibi – Napoleao
Antonio Radic (Croatia)
3 points: Dvirnyy – Shirov
2 points: Pavlidis – Ftacnik
1 point: Kapitanchuk – Kozak

Ayelen Martinez (Argentina)
3 points: Anand – Maghsoodloo
2 points: Noritsyn – So
1 point: Kapitanchuk – Kozak

Carlos Matamoros (Ecuador)
3 points: Dvirnyy – Shirov
2 points: Anand – Maghsoodloo
1 point: Noritsyn – So

Daniel King (UK)
2 points: Anand – Maghsoodloo
1 point: Noritsyn – So

Daniel Naroditsky (USA)
3 points: Dvirnyy – Shirov
2 points: Kapitanchuk – Kozak
1 point: Xiong – Esipenko

Eric Rosen (USA)
3 points: Dvirnyy – Shirov
2 points: Anand – Maghsoodloo
1 point: Noritsyn – So

Fiona Steil Antoni (Luxemburg)
3 points: Dvirnyy – Shirov
2 points: Kapitanchuk – Kozak
1 point: Salman – Aziz

Jesse February (South Africa)
3 points: Kapitanchuk – Kozak
2 points: Xiong – Esipenko
1 point: Dvirnyy – Shirov

Maria Emelianova (Russia)
3 points: Dvirnyy – Shirov
2 points: Pavlidis – Ftacnik
1 point: Anand – Maghsoodloo

Michael Rahal (Spain)
3 points: Kapitanchuk – Kozak
2 points: Dvirnyy – Shirov
1 point: Salman – Aziz

Sagar Shah & Amruta Mokal (India)
3 points: Dvirnyy vs Shirov
2 points: Vidit – Nepomniachtich
1 point: Kapitanchuk – Kozak

Simon Williams (UK)
3 points: Dvirnyy – Shirov
2 points: Kapitanchuk – Kozak
1 point: Gunina – Ticia Gara