The bowling action of West Indian spinner Sunil Narine has once been reported during the ongoing Pakistan Super League. The 29-year-old, who played for the Lahore Qalandars, was placed on the warning list and prevented from bowling for the time being. However, he could still partake in batting and fielding for his side.
Reported multiple times. Narine, is not the first player, nor will he be the last, to be reported for an illegal action or 'throwing – chucking'. Perhaps the first prominent case of throwing can be dated back to as far as the mid 1800's when cricket was still in its formative years. Tom Wills, who was one of the icons of his generation, was not only hugely talented but also a born winner. Sometimes that mentality meant he overstepped the laws of the game. This included throwing. For a few years he got away with his indiscretions. However in 1872, he was called for throwing and, effectively, made to retire. Since then many other cricketing superstars have come under the spotlight and have been investigated for throwing.
These in recent years include:
Shabbir Ahmed (December 2005)
Johan Botha (April 2009)
Shane Shillingford (December 2013)
Sachithra Senanayake (July 2014)
Kane Williamson (July 2014)
Saeed Ajmal (September 2014)
Prosper Utseya (October 2014)
Muhammad Hafeez ( November 2014)
Sohag Gazi (October 2014)
Arafat Sunny (March 2016)
Taskin Ahmed (May 2016)
For casual viewers of cricket, maybe even some avid watchers, throwing is something which is too complex to understand and is a 'gray area'. In this article, we will be exploring the origins of throwing and trying to understand why it is such a complex subject.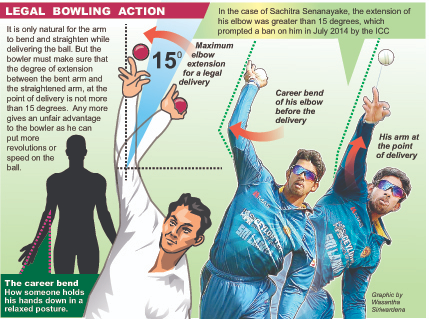 Firstly, let's look at the law in regards to throwing. ICC Law 24, Clause 3 defines a fair delivery with respect to the arm:
A ball is fairly delivered in respect of the arm if, once the bowler's arm has reached the level of the shoulder in the delivery swing, the elbow joint is not straightened partially or completely from that point until the ball has left the hand. This definition shall not debar a bowler from flexing or rotating the wrist in the delivery swing. In simple terms, a bowler should not flex his arm or extend it (beyond a decided limit) during their bowling action. Though the technicalities surrounding the law, which we will discuss later on, have been subject to change with time, the essence of the law has been the same since overarm bowling was made legal. Now, the question that must arise in most reader's minds by now will be this:
"Why is throwing illegal?"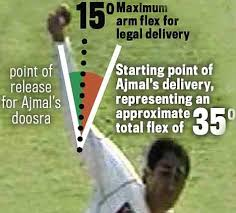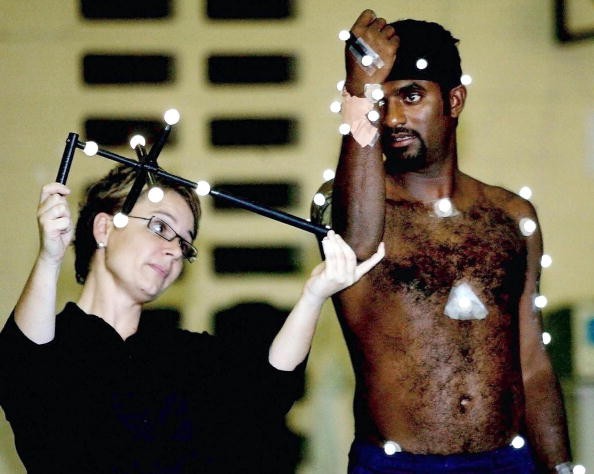 The answer to this question can be manifold. Firstly, the act of throwing tends to give bowlers an undue advantage as it allows them to impart more velocity to their delivery and helps them to bowl more accurately. This, in turn, makes it more difficult for a batsman to protect their wicket. In severe cases of throwing, it can even pose a physical danger to the batsman on the receiving end. Lastly, not only cricket, every sport in the world is bound by a certain set of norms which are generally more customary rather than based on reasoning. Most people have called for these rules to be followed without question. However, the rules have been cause for heated debate more than once.
Often the chuckers have been spinners rather than quicks. By flexing the elbow bowlers can get more rotations on to the ball. The spin delivery at the center of the debate regarding throwing during spin bowling is the "doosra". "Doosra", meaning 'the other one', is the delivery when an off spinner gets a bowl to spin in the opposite direction. Cricket's most famous chucking controversy came in the year 1996 when Muttiah Muralitharan, the legendary Sri Lankan spinner, who possessed a phenomenal doosra, was called for throwing several times by umpires while playing in Australia. To the naked eye it seemed clear enough that he threw the ball. In this instance, however, the naked eye proved fallible. Subsequent biometric tests showed that his action was, in fact, legal. A congenital defect had left him with a kink in his arm; he was unable to straighten his elbow fully. Illegality was an optical illusion.
Indeed, as further tests were conducted on cricketers both with suspect actions and without, it became apparent that no one was bowling legally. Even though most were convinced that their arms were straight, and their actions appeared perfectly legal to observers, the average bowler, it turns out, flexes his elbow by between eight and ten degrees as a part of the natural mechanics of delivering the ball. This was clearly a conundrum for the ICC. Its solution was to allow bowlers 15 degrees leeway. It also encouraged umpires to report suspect bowling actions to the ICC rather than call a no-ball on the field. It would then hand the case to biomechanics, who could conduct tests under laboratory conditions.
In the assessment of our cricket panel, throwing is something which is often played up to be more than what it is. Staunch traditionalists sometimes stick to the letter of the law too stubbornly.
While interacting with Allsportspk most of the cricket experts were of the opinion, that bowling actions should be modeled and tweaked at a young age to avoid controversy at later stages. However, it is important, that if a bowler does go slightly over the limit, he should not be penalized too harshly and banned. There should be some leeway given to talented bowlers because if they aren't given a chance, cricket will be the worse off for it and will lose gifted individuals.
Chucking is not the heinous crime most of the game's old-fashioned followers believe it is, especially when its purpose is to add another armament to the dying art of spin bowling rather than injuring opponents.
For updates regularly visit: Allsportspk