The PCB-Pakistan Cricket Board announced that players would not be forced to travel to England for the planned Test and T20 series in August-September. Later, the CEO of PCB, Wasim Khan, mentioned that none of the players had decided to pull out of the tour and had submitted their formal confirmations as well.
However, two of the players, Muhammad Amir and Haris Sohail, have announced that they would not be able to go with the team.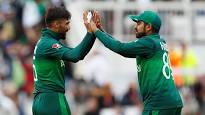 Amir, who paved the way for Pakistan to win the Champions Trophy, has withdrawn so that he is present when his second child is born in August. On the other hand, Haris has said that he shall be missing from the tour due to family reasons.
A total of 42 personnel, 28 players and 14 player support officials, shall be going for the much-anticipated tour to England.
A test and a T20 series, each comprising of three three matches have been scheduled to be played. The pre-series and series plan as well as the squad has not been released by now, yet the PCB has confirmed that it will be out in due course.
Keep following Allsportspk for further updates!