1st National Championship of Blind Women Cricket was inaugurated at Shalimar Cricket Ground, Islamabad on 8th March 2022. Four provincial teams named Sindh, Punjab, Islamabad, and KPK are taking part in this event, the match schedule of which starts from Thursday, 9th March.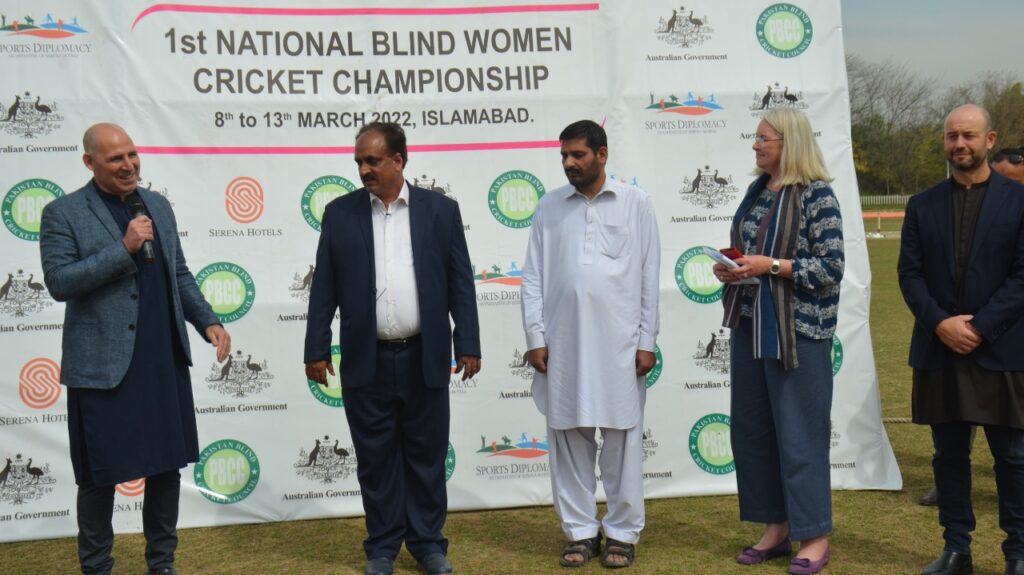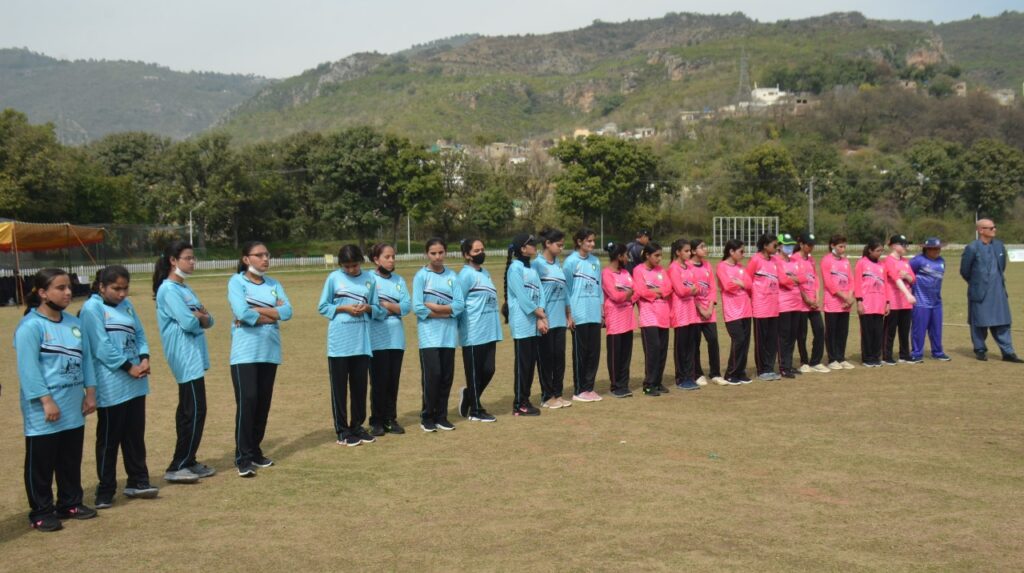 Sponsored by the Australian High Commission in Pakistan the event of Blind Women Cricket was aligned with International Women's Day on 8th March, 2022. Mr. Nick Hockley officially inaugurated the event by hitting the audible blind cricket ball. Nick Hockley and Ms. Joanne Frederiksen played cricket with the visually impaired girls for quite some time.
Mr. Nick Hockley, CEO Cricket Australia, Ms. Joanne Frederiksen Australia's Deputy High Commissioner to Pakistan, Syed Sultan Shah President World Blind Cricket Ltd as well as Chairman PBCC and Mr. Todd Greenberg, CEO of Australian Cricketers' Association attended the event, met, and addressed with the participants of Blind Women Cricket event.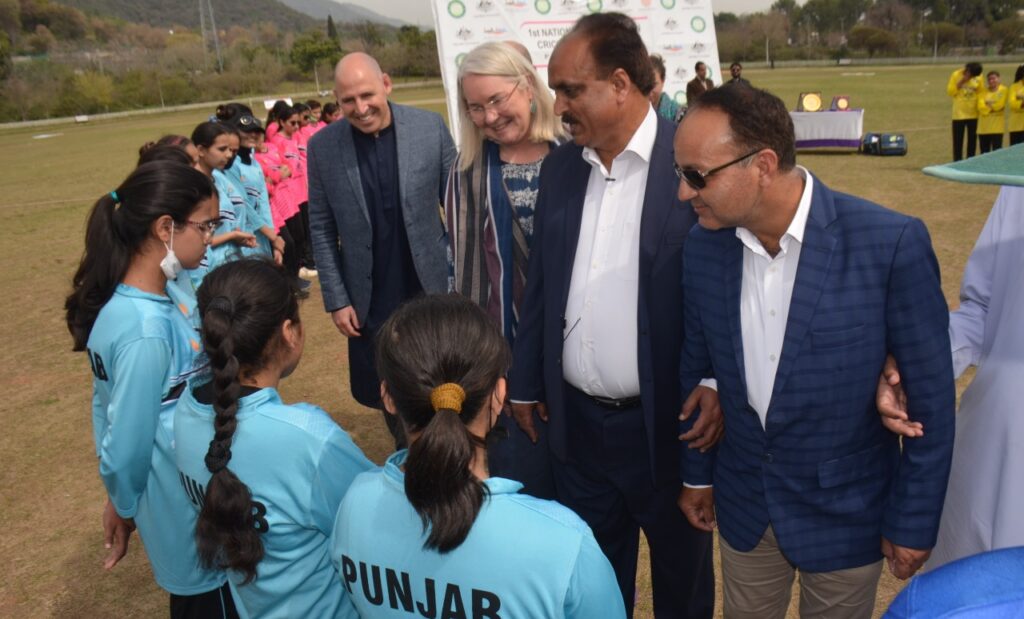 The Chairman of Pakistan Blind Cricket Council, Syed Sultan Shah, welcoming the guests said, "Two blind factory workers invented blind cricket in Melbourne, Australia, in 1922 and it is a highly competitive game which enables people with visual impairment to become people of vision." Further, he informed that Forty-four (44) women & girls with visual impairment are participating in this event, shortlisted across Pakistan from Karachi to Gilgit-Baltistan. He thanked the Australian Government for the much-needed support for this cause. He requested Mr. Nick Hockley to follow the Pakistan Cricket Board model of supporting Men Blind Cricket there in Australia. Pakistan's men blind cricket is the powerhouse in Blind Cricket and it could not be achieved without the financial assistance of PCB."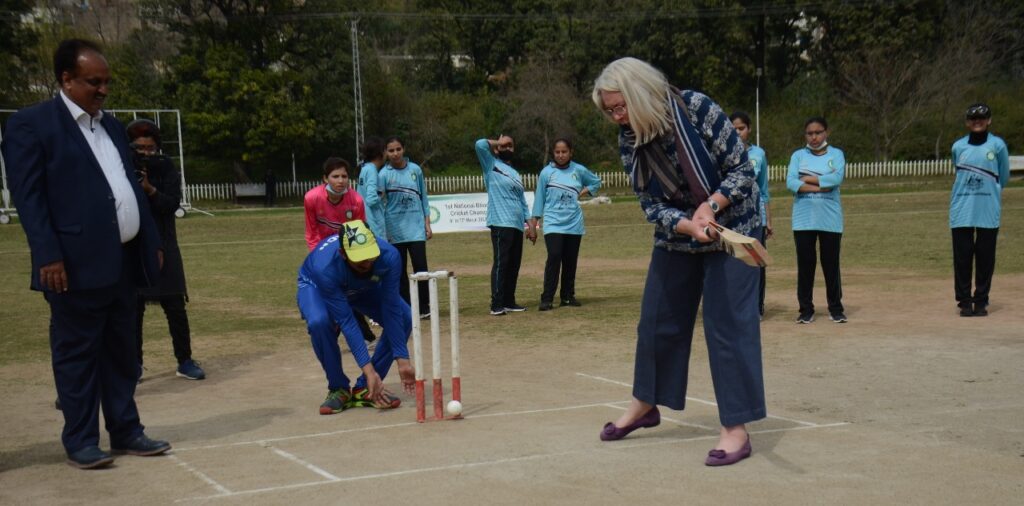 Ms. Joanne Frederiksen, Australia's Deputy High Commissioner to Pakistan said that they appreciate the efforts of the Pakistan Blind Cricket Council in taking this initiative, and on this Women's Day. They are pleased to support a visually impaired women's cricket training and championship as this will provide the women & girls with a disability the opportunity to participate in Pakistan's favorite sport. She assured me they will continue to fund Blind Women Cricket in Pakistan in the future as well.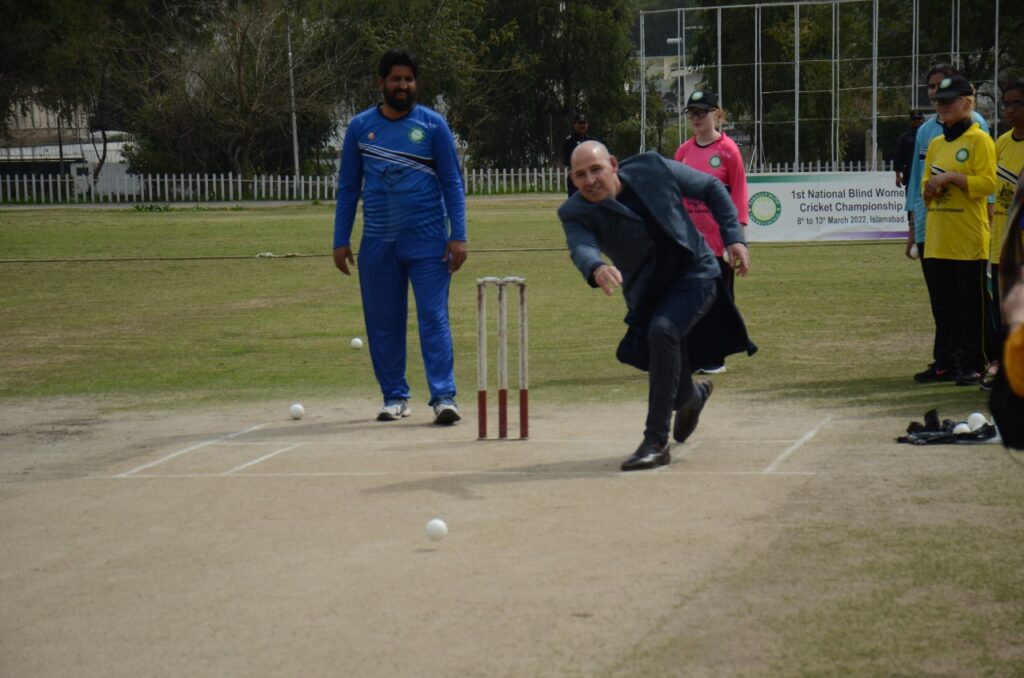 Nick Hockley, CEO of Cricket Australia expressed his pleasure in watching these visually impaired girls playing cricket that are a source of inspiration for all, he said, Australia and Pakistan share a passion for cricket, and on this day Australian men's team is playing Test Match with Pakistan in Rawalpindi and Australian and Pakistan Women are competing in World Cup game. He was confident that Cricket Australia will play an important part to uplift the Blind Cricket in Australia.