Sajjad Shah lifted the Azadi-e-Kashmir Tenpin Bowling Championship while Ahmer Saldera and Danyial Shah obtained 2nd and 3rd position at Leisure City Bowling Club, Jinnah Park, Rawalpindi.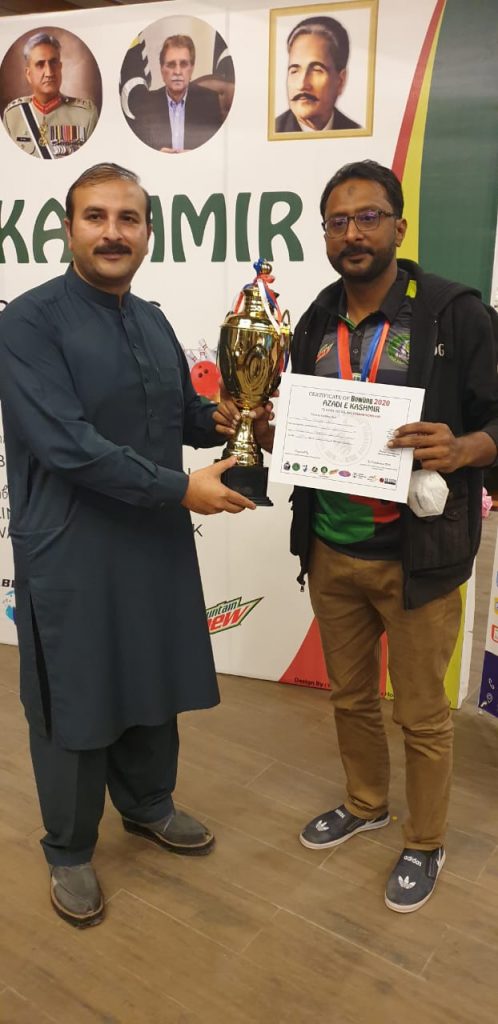 In the Men singles event; Sajjad shah won the titles with 559 points while Ahmer Saldera got 2nd position with 515 points and Danyial Shah secured  3rd position with 511 points.
In the Men doubles event; Aleem and Ahmer bagged first position with 1176 points. Zafar and Faheem got 2nd position with 1139 points while Ijaz and Sakindar obtained 3rd position with 1072 points.
In the Men team event; Ali Suria, Afzaal Akhtar, Danyial Shah and Sakindar got first position and Ahmer, Aleem Agha, Sajjad and Khawaja secured 2nd position while Faheem, Danyial, Zafar and Ijaz obtained 3rd position.
The Championship was played under the supervision of Pakistan Tenpin Bowling Federation and sponsored by DHA Gujaranwala with Rupees 500,000 prize money. Sajjad Shah received Rs. 50,000 as Ist position Cash Award.  Rs. 25,000 was given to Ahmer Saldera as 2nd position and Rs.15,000 to Danyial Shah as 3rd position qinners. While Rs.10,000 and Rs.5,000 were given to Ali Suria and Ijaz ur Rehman as 4th and 5th position cash award respectively.