Barry's qualified for the main final against Newage/Master Paints and Remounts subsidiary final of the Ittehad Punjab Polo Cup 2022 after registering victories in their respective matches at the Lahore Polo Club.
Interestingly, the 2022 final is according to Allsportspk record moreover same as 2019.
Barry's Vs Diamond Paints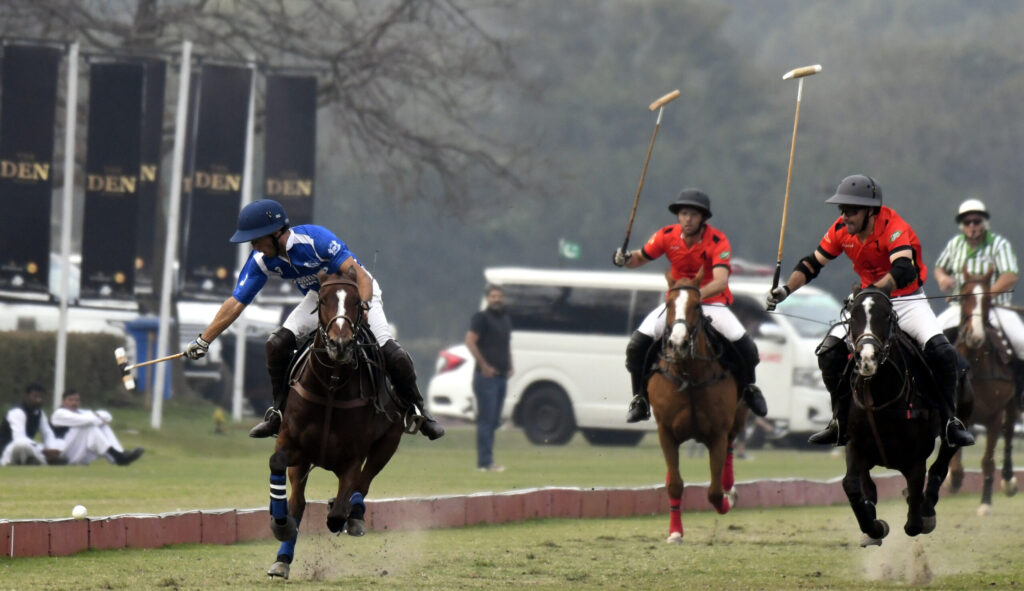 Heroics of high-flying Hamza Mawaz Khan and phenomenal Ernesto Trotz helped Barry's beat Diamond Paints by 4-3½ in the nail-biting encounter. Hamza Mawaz Khan hammered an impressive hat-trick while Ernesto Trotz converted one goal in the Barry's triumph. On the other hand, for Diamond Paints, which had one and half goal handicap advantage, Guy Gibrat, with the all-out support by his teammates, tried hard to help Diamond Paints record victory and succeeded in converting two goals, but in the end, their efforts proved futile.
Despite facing tough fight from Diamond Paints, which had one and a half goal handicap advantage, Barry's managed to convert one goal in the first chukker and one more in the second to take a slight 2-1½ lead. Barry's added one more in their tally to stretch their lead to 3-1½ but Diamond Paints then made their presence felt and hammered a field goal to reduce the deficit to 3-2½.
Just before end of the third chukker, Barry's converted a 30-yard penalty to enhance their lead to 4-2½. Though Diamond Paints dominated the fourth and last chukker by converting one goal and having maximum possession of the ball, but they failed to smash in a match-winner, thus lost the crucial match by 3½-4.
Remounts Vs DS Polo/Rizvi's
Earlier in the first match of the day, Remounts defeated DS Polo/Rizvi's by a close margin of 6-5. All-round Remounts saw Simon Prado and Nico Roberts playing their best polo and thrashing in three goals each from the winning side. The losing side contribution came from superb Hissam Ali Hyder and foreign player Max Charlton, who converted three and two goals respectively.
Remounts dominated the match right from the word go as they banged in a beautiful brace to gain a 2-0 lead. The second chukker saw both the teams scoring one goal each with Remounts having 3-1 lead. The third chukker was identical to the third one, where one goal each was converted by both the sides with Remounts still enjoying 4-2 lead.
The fourth chukker saw dominance of DS Polo/Rizvi's hammering three back-to-back goals to earn a slight 5-4 lead, which couldn't last long as Remounts bounced back by converting a 40-yard penalty to level the score at 5-all. No more goal was scored and the match was then decided in the sudden death chukker, where Nico Roberts converted a match-winning goal to guide Remounts to a well-deserving victory.

لاہور پولو کلب کے زیراہتمام تاریخی اتحاد پنجاب پولو کپ 2022ء کے چوتھے دن ٹیم باڑیز نے مین فائنل کیلئے جبکہ ری ماؤنٹس نے سب سڈری فائنل کیلئے کوالیفائی کرلیا۔ تفصیلات کے مطابق لاہور پولو کلب میں میچز دیکھنے کیلئے اتحاد ٹیکسٹائل، دی ڈین کی مینجمنٹ، لاہور پولو کلب کے صدر عمر صادق، سیکرٹری آغا مرتضیٰ علی خان، ایگزیکٹو کمیٹی ممبرزاور فیملیز کی بڑی تعداد بھی موجود تھی۔ ٹیم باڑیز اور ڈائمنڈ پینٹس کے درمیان میچ ایک بہترین میچ ثابت ہوا جس میں ڈائمنڈ پینٹس کی ٹیم نے باڑیز کیخلاف زبردست کھیل پیش کیا مگر آدھے گول سے ٹیم میچ ہار گئی۔ باڑیز کی ٹیم نے میچ 4-3.5 سے جیتا اور فائنل کیلئے کوالیفائی کیا۔ باڑیز کی طرف سے حمزہ مواز خان نے تین اور ارینسٹو ٹروٹز نے ایک گول سکور کیا۔ ڈائمنڈ پینٹس کی ٹیم کو ڈیڑھ گول ہینڈی کیپ ایڈوانٹیج حاصل تھا دیگر میں گی گبرٹ نے زبردست کھیل پیش کیا اور دو گول سکور کیے۔ ادھر پہلے کھیلے گئے میچ میں ری ماؤنٹس کی ٹیم نے سڈن ڈیتھ پر پانچویں چکر میں ڈی ایس پولو /رضویز کی ٹیم کو 6-5 سے ہرا کر سب سڈری فائنل کیلئے کوالیفائی کیا۔ ٹیم ری ماؤنٹس کی طرف سے نکورابٹس اور صائمن پراڈا نے تین تین گول سکور کیے جبکہ ڈی ایس پولو/رضویز کی طرف سے حسام علی حیدر نے تین اورو میکس چارلٹن نے دو گول سکور کیے۔ اس طرح اتوار کی سہ پہر فائنل میچ باڑیز اور نیوایج/ماسٹر پینٹس کے درمیان کھیلا جائے گا۔