Rogers Cup 2018 – Q. Finals: Kevin Dominates Grigor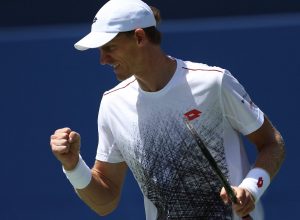 Wimbledon 2018's runner up, Kevin Anderson dominated Grigor Dimitrov to beat him by 6-2, 6-2 in the quarter finals, and proceed to the semi-finals of the ongoing Rogers Cup 2018.
Kevin Anderson is a South African national and a professional tennis player. He is currently ranked 5th in the Men's singles tennis rankings.
World Tennis Rankings – 5th August 2018
Anderson cleared past the prevailing ATP World Tour Finals champion in a rematch of their 2014 quarter-last duel in Canada when Dimitrov guaranteed one of his six wins against the South African.
Kevin #Anderson is through to his second Masters 1000 semi-final of 2018 after brushing aside Grigor #Dimitrov @RogersCup in Toronto 6-2 6-2 in 65 minutes. ? Watch live action between young guns Alexander #Zverev & Stefanos #Tsitsipas on Sky Sports Arena next ? pic.twitter.com/0eljtoxiK5

— Sky Sports Tennis ? (@SkySportsTennis) 10 August 2018
This is why it was a huge win for Kevin Anderson, as he had not defeated the Bulgarian for a long time, yet today he looked in charge throughout the match.
Allsportspk Recaps: 5 Longest Matches In Tennis Grand Slams
Not only did he win, but the South African dominated the match as he moved into the semis in only 66 minutes, with only four breaks and overseeing an unassuming 11 aces.
Can he do it? YEs he KAN!@KAndersonATP reaches second Masters 1000 semi-final of 2018, 6-2 6-2 over Dimitrov.#RogersCup pic.twitter.com/1gK6K2gAtD

— Tennis TV (@TennisTV) 10 August 2018
In the semi-finals he will either play, defending champion Alexander Zverev of Germany or the Greek national, Stefanos Tsitsipas, who shocked Novak Djokovic in the third round, to confirm a place in the quarter finals.
Kevin Anderson got it done! He is the Semi Finalist at #CoupeRogers after winning over Grigor Dimitrov, 6-2, 6-2. He is displaying really good level of Tennis. Playing like a Champ. What a win against seed #5!

— Namrata Sanadhya (@NamrataSanadhya) 10 August 2018
Congratulations @KAndersonATP Another briliant win at the #RogersCup against Grigor Dimitrov. Now for the semi-finals

— Johan Ferreira (@Johan_Ferreira) 10 August 2018
For more updates keep visiting allsportspk