Rugby Football Union: Danny Cipriani Charged With Misconduct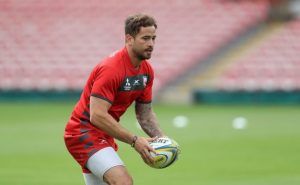 After a nightclub occurrence in Jersey, Rugby Football Union has charged, Danny Cipriani of "conduct prejudicial to the interests of the game".
Danny Cipriani is an English national and a professional rugby union player. In his career so far, he has represented, the Melbourne Rebels, Sale Sharks, Wasps, Gloucester and is also a part of the the England national Rugby team.
What with the Ben Stokes case, and the Danny Cipriani arrest, doesn't everyone just wish our cricket and rugby players could follow the example of the England football team?

— Tom Wells (@ByTomWells) 15 August 2018
At present, the 30 year old, Cipriani, has been fined in the wake of assault and opposing arrest.
The biggest mindblock about the @gloucesterrugby fly half @DannyCipriani87 (if found guilty)? It was in a club….in Jersey….on a Tuesday night?. I've had some tragic nights out but this takes the biscuit. Thoughts @RugbyGlos? #rugby #DannyCipriani #Glawsfamily #rugbyunited

— Matt Hardy (@MattHardyJourno) 15 August 2018
However, Cipriani's present team Gloucester's CEO Stephen Vaughan has condemned the planning of the RFU charge. Vaughan asserted the charge came regardless of "personal assurances" that none would be brought before Gloucester had settled their own particular discourses.
Danny Cipriani exits Magistrate's Court after being fined £2000 for his offences at town nightclub. No apology or statement#Cipriani #rugby pic.twitter.com/dwHCHU3uY1

— Jason Fox (@JasonFox_14) 16 August 2018
He also said:
We are surprised and extremely disappointed to have recently received notification of disciplinary action. We do not agree with the RFU's decision to embark upon a disciplinary process before we have concluded our own internal discussions.
Cipriani's disciplinary hearing will happen one week from now. The date, time and individuals from the autonomous RFU board are yet to be finalised.
Rugby star Danny Cipriani admits drunken assault in nightclub. what is with overpaid, prima donna, sportsmen & booze? Why cant they control themselves

— Andrew Pierce (@toryboypierce) 16 August 2018
Two Premiership rugby clubs have been in Jersey this week. A member of Harlequins' backroom staff fell out of a hotel window in the early hours of Sunday morning, now Gloucester's Danny Cipriani has been charged with assault. Some pre-season.

— Tony Curr (@tonycvrr) 15 August 2018
Danny Cipriani nearly fooled me as "truly sorry" for police assault. Then he quoted magistrates 'it was only a minor incident'. And all respect was gone. Just take responsibility. You're supposed to be a role model. https://t.co/0jSc2uXkPJ pic.twitter.com/GbcNL0ADvp

— Sarah Hamlin (@SarahH_68) 17 August 2018
For more updates keep visiting allsportspk