Sadio Mane has been on a consistently upward trajectory for some time now and has been sweeping honours and accolades left and right for his professional excellence.
From Senegal, Sadio was born on 10th April 1992. He began his professional career with Ligue 2.  A devout Muslim he is known for practicing his faith teachings with especial emphasis on serving needy humans.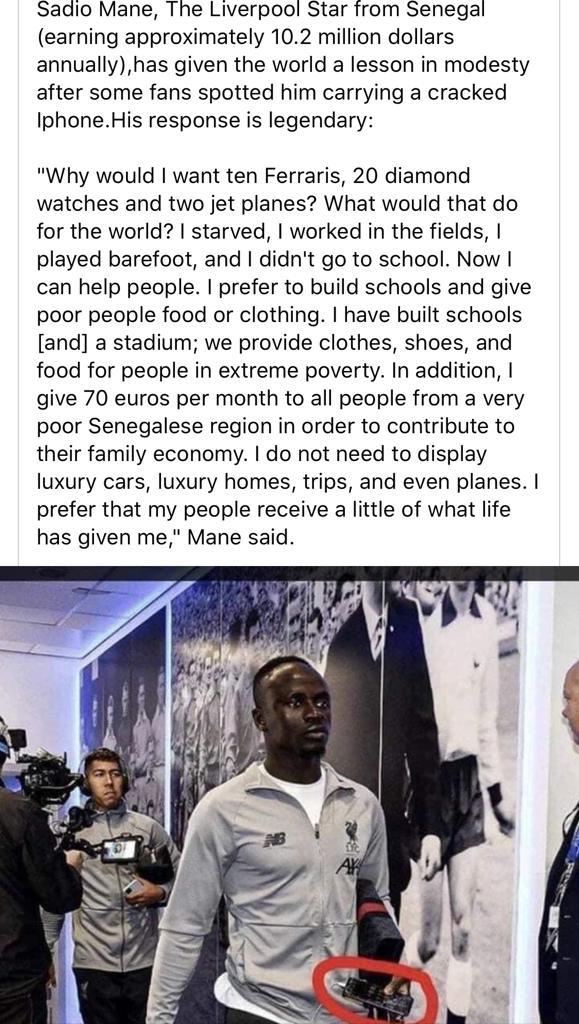 The Senegalese star has been the main pillar behind Liverpool's recent victories along with fellow African footballer Mohamed Salah leading the English club to consecutive victories in the Champions League, FIFA Club World Cup and UEFA Super Cup.
Mane has also spearheaded his national side's win streak leading them to the champion title of Africa Cup of Nations and winning the African footballer of the year 2019 in the process.
Being a superstar in the world's most famous sport comes with a great many benefits such as 10 million dollars annual income and worldwide recognition that can disconnect anyone from reality and human compassion, but not Sadio Mane.
The Football star was recently subjected to social media ridicule for sporting a phone with the cracked screen as many on the internet joked that the millionaire footballer cannot even afford a new phone.
However, the 27-year-old Liverpool winger explained in a recent interview that the phone was actually a gift from a friend and Dutch footballer Georginio Wijnaldum and he did not want to replace it due to its sentimental value.
Main also shed light on his humble background and traced his journey from the fields of a Senegalese village and barefoot street football to the global stardom and most luxurious of the lives offered by the status that comes with it.
The twice-winner of African honor stressed that he was not fascinated at all by the typical luxuries associated with the millionaires but he was on a different sort of spending spree. He spends his time and money building schools and stadiums in his country and providing food and cloth for the poorest communities in Senegal and other African countries.
The heartfelt response by the African footballer and philanthropist was met with widespread praise by the social media community who have hailed him as a hero on and off the field.
Read Allsportspk's Weekly Sports News Roundup
For regular updates keep visiting: Allsportspk