Amanda Sobhy is the 2023 Canadian Women's Open champion by defeating Egypt's injured Salma Hany in front of a capacity court audience at the impressive Allen Lambert Galleria in Brookfield Place, Toronto.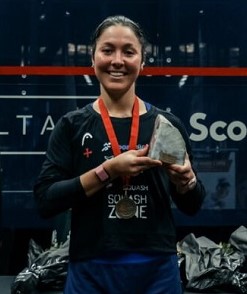 Winning her 20th PSA title, the American came back after being behind during early part of the match, and proved better then Salma, who was struggling due to an injury sustained during the second game.
Amanda after lifting the 2023 trophy and medal by Canadian legend Jonathon Power, commented: "It feels great to win the event (and 20th title)."
Salma who was in full control during the first game, moved Amanda all over the court and won the opening game strongly with the score 11-8.
In the second game Amanda came back with an attacking style manner and gave Salma a testing time with a 11-5 win.
After the second Salma took an injury break.
Sobhy continued to attack in the third game, testing an injured and greatly frustrated Salma as she moved ahead with a second 11-5 win and her 20th title.
With 2-1 game edge, Amanda continued her winning streak confidence to beat struggling Egyptian 11-6 in the fourth game.
For both Sobhy and Hany, attention turns immediately to the British Open, which is returning to Birmingham after a 22-year hiatus and will be played 9-16 April.