Tennis – Cincinnati Masters '18: Hasse Stuns Zverev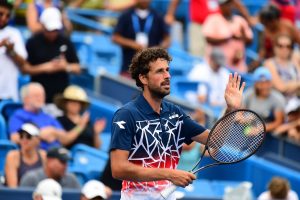 Alexander Zverev's disappointing tennis season continued, as he lost to Robin Hasse, after struggling hard in the Cincinnati Masters ongoing Round of 32. The German barely edged the primary set 7-5, yet lost his momentum as he was defeated in the following two sets by 4-6 and 5-7.
Cincinnati | La primera gran sorpresa del torneo es gentileza de Robin Haase (??) que venció a Alexander Zverev (??) por 5-7,6-4,7-5. pic.twitter.com/WeGwFnziDI

— Drive Cruzado (@DriveCruzado) August 15, 2018
Alexander "Sascha" Zverev is a German national and a professional tennis player. The tennis star is also the youngest player in the top 10 players of the Men's Singles tennis rankings.
World Tennis Rankings – 13th August '18: Nadal Retains His Top Spot
Zverev has crashed to a shock defeat. He loses to Robin Hasse 7-5 4-6 5-7. Our bad luck continues as Zverev is defeated by an opponent ranked 51 places below him ? Sorry guys but we'll bounce back from this

— Sports Betting (@DailySportsTipz) August 15, 2018
Robin Haase will now confront either Bradley Klahn or Pablo Carreno Busta in the third round.
Tennis – Rogers Cup '18: Nadal and Simona Win Titles
On the other hand, Zverev who is only 21 years old has played minimal tennis, amid the American hard-court season, as he likewise lost to Stefanos Tsitsipas in the Rogers Cup quarter-finals a week ago.
And now with no tennis activity for the next few weeks, Zverev will have enough time on his hands to contemplate before the upcoming tennis major tournament i.e. The US Open.
Cincy-Upset alert! Robin Hasse d. 3rd seed Alexander "Sascha" #Zverev 3rd setter Robin "focused on my breathing" a key to staying calm #CincyTennis #ATP #Tennos #Sports #USA

— KA (@KTennisFan) August 15, 2018
Robin Haase puts on a fearless display, upsetting No.3 seed Alexander Zverev 5-7 6-4 7-5 for just his second Cincinnati win. #CincyTennispic.twitter.com/fsas19RHro https://t.co/xHzplW5nuJ pic.twitter.com/X9cNgtSAIL

— Sports Roadhouse® (@SportsRoadhouse) August 15, 2018
Those two defeats in a row will be a cause of concern for Alexander Zverev but it's certainly not the end of his US Open hopes. Maybe a few days off will actually do him some good #Zverev #CincyTennis

— Paul McMahon (@PaulMcMahon1000) August 15, 2018
Alexander Zverev #CincyTennis pic.twitter.com/ioFVkCAVZl

— Nigel Margett (@Nigel_The_Ram) August 15, 2018
Zero effusive, nothing, just businesslike. That's Robin Haase after ousting 3rd seed Alexander Zverev 5-7, 6-4, 7-5 in R2 of #CincyTennis.

— BATennisWorld (@BATennisWorld) August 15, 2018
For more updates keep visiting allsportspk