Tennis – Winston-Salem Open '18: Daniil Medvedev Wins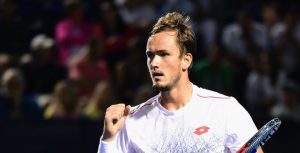 Daniil Medvedev beat Steve Johnson 6-4, 6-4 on Saturday in the Winston-Salem Open for his second career ATP World Tour title.
The 22-year-old Medvedev, ranked No. 57 in the world and unseeded in the event, did not drop a set in six matches in the final U.S. Open tuneup event.
"In the beginning of the week, I didn't think it was going to be possible," Medvedev said. "I was playing quite good, but I didn't feel I was at the right form to win a title. I started quite slow in the tournament, I would say. I could have even lost my first match, and finally I won the tournament without dropping a set, which is quite an amazing achievement. I'm really happy about it."
Tennis – French Open: Serena Williams Banned From Wearing Catsuit
Medvedev broke Johnson's serve twice, while facing only a single break point himself, to claim his second championship of the year. The Russian won the Sydney International in January.
Daniil Medvedev, having a very on & off season, beats Steve Johnson 6-4, 6-4 to win his 2nd career title (after Sydney 2018) in Winston Salem. New career high on Monday for Daniil (#36). pic.twitter.com/7RqtcYA5mc

— José Morgado (@josemorgado) August 25, 2018
Just like that event, when he topped Australian Alex de Minaur in the final, Medvedev defeated a home favorite in Winston-Salem. Johnson, an American ranked No. 34 in the world, had the overwhelming support of the crowd at the Wake Forest Tennis Complex.
Tennis – Winston-Salem Open '18: Kyle Edmund Knocked Out
"I beat a lot of guys in their home crowd," Medvedev said. "I don't know (why). It's just a tennis match, and I try to win all the tennis matches I play, whether it's the home favorite or not. But after the match, it feels better to beat someone who the crowd was supporting, who was on fire because of this."
"I could say I was a little bit tight all match. Of course, it's a final, and I think he was also tight, and maybe more than me. That's why I won."
Congratulations to our 2018 #WSOpen Champion, Daniil Medvedev ??! Without dropping a set the entire tournament, the 22-year-old takes home his second career title ?.

Full results: https://t.co/a81SGzY8tz#WSOpen#ATP#USOpenSeries
?: Camerawork USA pic.twitter.com/GmxC0Ycsxl

— Winston-Salem Open (@WSOpen) August 26, 2018
The eighth-seeded Johnson came up short in a bid to become the only player this year to win titles on three different surfaces. The American won the U.S. Men's Clay Court in Houston in April and the Hall of Fame event on grass in Rhode Island last month. He fell to 1-4 in his career against the Russian.
World Tennis Rankings – 21st August '18: Djokovic Moves To No. 6
"(It was) unlucky that he had a great serve, but he had been doing that all match, and I'm sure he had been doing it all week," Johnson said. "Credit to him – I thought he played really well in the final today, but definitely a bummer for me. I'd love to get a hard court title here in the States."
Just watched ?Daniil Medvedev d. Steve Johnson 6-4;6-4 to win Winston-Salem Open. What if Russians win the Usopen2018 WTA & ATP?

— Cassandra Williams (@Cwms84Cassandra) August 25, 2018
For more updates keep visiting allsportspk