Pakistan Cricket: Zalmi Madrasa League – Schedule Announced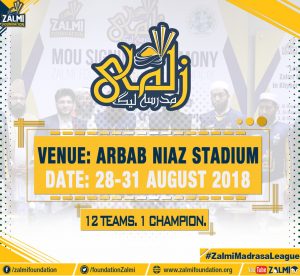 According to the announced schedule, Zalmi Madrasa League, will take place from 28th-31st August, in Arbab Niaz Stadium, Peshawar, Pakistan.
Zalmi Madrasa League is a joint venture of Peshawar Zalmi, Zalmi Foundation and the World Council of Religions. The event is also being supported by the Directorate General of Sports of KP.
World Cricket Rankings – 24th August '18: Virat Kohli Regains His Top Spot
Peshawar Zalmi established in 2015, is a T20 cricket team which plays in the Pakistan Super League and represents the city of Peshawar, Pakistan. The team is owned by Mr. Javed Afridi.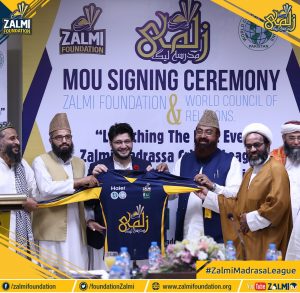 As social responsibility, the Zalmi management is actively involved in sports especially cricket related endeavours to engage the youth. After executing the first ever school league, Peshawar Zalmi, has initiated the "Zalmi Madrasa League".
Cricket: Steve Smith Mimics Shahid Afridi
Mr. Javed Afridi, sharing his thoughts said that "the main aim and objective of this league is to promote interfaith harmony among the Madrasa Students of different schools of thoughts and also provide them with a proper platform to showcase their talent."
Schedule & Teams
The first match will be played between Al Haq Smashers and AlMaqasid Fighters in Arbab Niaz Stadium on 28th August 2018.
The semi-finals and final of the event will take place on 31st August 2018 at Arbab Niaz Stadium.
Pakistan Cricket: Nasir Jamshed Banned Over Spot Fixing Scandal
The 12 teams participating in Zalmi Madrasa League are as follows:
Al Haq Smashers
Al Maqasid Fighters
Al Hilal Challengers
Al Wahda Hitters
Al Noor All Rounders
Al Khair Riders
Al Mutahidoon Creatives
Ittehad Peace Builders
Al Fatah Record Sitters
Al Nujoom Risers
Al Qurra Stars
Al Barq Thunders
South Africa Cricket: AB De Villiers 'No Regrets' On Retirement
For more updates keep visiting allsportspk