Lahore Division – Inter-District U16 Boys Championship: Day 2
LAHORE: The second day of the U16 Boys Championship continued with competitive performances in various sports.
The Lahore Division – Inter-District U16 Boys Championship is being held by Sports Board Punjab (SBP) in collaboration with other sports associations, under the slogan of 'Green and Healthy Punjab'
On the 2nd Day, the sports wise highlights & results were:
Table Tennis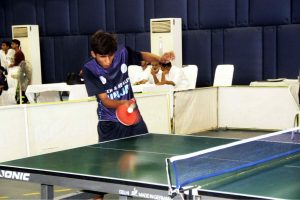 Lahore and Sheikhupura dominated and emerged winners in table tennis competitions.
Lahore table tennis team trounced Nankana Sahib quite comfortably by a big margin of 3-0. Lahore boys dominated the match proceedings right from the beginning and did not allow their opponents to settle down throughout the match. Lahore's Taimur Khan, M Hasan and Abdullah defeated Nankana's Armghan, Shahzad and Abdul Wahid respectively.
Sheikhupura boys also demonstrated excellent game and won their match by 3-1 against Kasur.
Badminton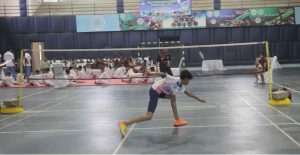 Lahore team toppled Nankana Sahib 2-0. Lahore's Saad beat Nankana's M. Ahsan in the singles match with the scores of 21-9, 21-7. Saad and Usman of Lahore teamed up to outplay Nankana's Ahsan and Hashim in the doubles contest without much trouble. The scores were 21-12, 21-10.
Sheikhupura whitewashed Kasur by 2-0 difference. In the singles match, Sheikhupura's Zubair pulverized Kasurs' Sahil by 21-7 and 21-18 while Zubair in the company of Umer defeated Kamran and Saad of Kasur by 21-9 and 21-8.
Football
Lahore thrashed Kasur by 7-1 at Lahore Football Academy, Johar Town. Lahore's Haroon Zafar struck 4 beautiful goals while M. Bilal and Qasim netted two and one goal apiece for the winning team. Usman Rasheed scored the only goal for losing team.
Hockey
Lahore whipped Kasur by a huge margin of 6-0 at Mini Hockey Stadium. Haseeb netted three, Murtaza two while Abdul Mannan contributed one goal for the victorious team.
Kasur edged out Sheikhupura by 1-0 in a hockey match played at Mini Hockey Stadium.
Taekwondo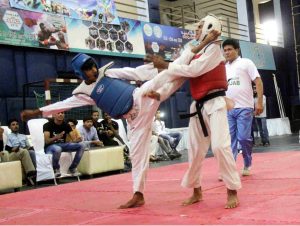 Lahore's players dominated the proceedings taking first position in six competitions out of eight events. Lahore's six players – M Faizan (48kg), Zuhaib Asif (51kg), Jahanzaib Asif (59kg), Jawad Ahmed (63kg), Fareedul Hasan (68kg) and Zeeshan Ali (73kg) got first positions in their respective weight categories.
The Taekwondo match results were:
45kg: Ahmed Yasin (Sheikhupura), Hamza Ali (Lhr), Fayyaz Umer (Nankana Sahib), M Haroon (Kasur)
48kg: M Faizan (Lhr), Ameer Hamza (Sheikhupura), Mureed Abbas (Kasur), Ali Hasan (Nankana Sahib)
51kg: Zuhaib Asif (Lhr), Nabeel Asif (Kasur), Furqan (Nankana Sahib), M Usman (Sheikhpura)
55kg: M Ali (Sheikhpura), Haider Ali (Kasur), Sarmad Hussain (Lhr), Haroon Tariq (Nankana Sahib)
59kg: Jahanzaib Asif (Lhr), M Ali (Kasur), Danish Ali (Sheikhupura), Fahad Manzoor (Nankana Sahib)
63kg: Jawad Ahmed (Lhr), Hamdan Ahmed (Kasur), M Sufian (Sheikhupura), M Arshad (Nankana Sahib)
68kg: Fareedul Hasan (Lhr), Suhail Ahmed (Kasur), Faisal Manzoor (Nankana Sahib), Sheraz Khan (Sheikhupura)
73kg: Zeeshan Ali (Lhr), Raheel Babar (Kasur), Husnain Tariq (Nankana Sahib), Babar Ali (Sheikhupura)
Volleyball
Sheikhupura defeated Kasur by 2-0 in the match played at NPSC Gymnasium Hall on Tuesday. Sheikhupura won the first set by 25-9 and second by 25-8 to make it one-sided contest.
Lahore team was awarded walk-over against Nankana team which failed to reach the match venue in time.
The schedule of the matches of the ongoing U16 Boys Championship to be held on 19th July are as follows:
Table Tennis
Lahore vs Kasur at 10:00am at Gymnasium Hall
Sheikhupura vs Nankana Sahib at 12:00 Noon at Gymnasium Hall
Lahore vs Sheikhupura at 2:00pm at Gymnasium Hall
Kasur vs Nankana Sahib at 4:00pm at Gymnasium Hall
Hockey
Lahore vs Sheikhupura at 3:30pm at Mini Hockey Stadium
Kasur vs Nankana Sahib at 5:00pm at Mini Hockey Stadium
Football
Lahore vs Sheikhupura at 3:15pm at Lahore Football Academy Johar Town
Kasur vs Nankana Sahib at 4:30pm at Lahore Football Academy Johar Town
Volleyball
Lahore vs Sheikhupura at 4:00pm at Gymnasium Hall
Kasur vs Nankana Sahib at 6:00pm at Gymnasium Hall
Badminton
Lahore vs Kasur at 10:00am at Gymnasium Hall
Sheikhupura vs Nankana Sahib at 12:00 Noon Gymnasium Hall
For more updates keep visiting allsportspk