Today a total of 3 matches were held of the ongoing FIFA World Cup 2018.The match wise highlights are appended below.
World Cup 2018: Day 8 – Matches – Summary & Highlights
FIFA World Cup 2018 – M24: Brazil Vs Costa Rica (1-1)
Highlights:
WC '18 – Match 24: Brazil Vs Costa Rica
Result: 2 – 0
Goal Scorers:
Brazil: Phillipe Coutinho 90'+1′, Neymar 90'+7′
Highlights:
One of the strong favorites to win this World Cup, Brazil added another victory to their name by winning against Costa Rica.
In the 1st half, Brazil dominated possession and total shots by a long margin but Costa Rica played all-out defense and no goals were scored by the Brazilians.
Costa Rica also couldn't score and the 1st half ended with 0 – 0 on the scoreboard.
In the 2nd half, the same approach was seen by both teams. Brazil attacked while Costa Rica defended.
Quite a few chances were missed by the Brazilians as the match now went into 2nd half's injury time. A draw was definitely on the cards.
But, Phillipe Coutinho's close range shot put Brazil in the lead.
⚽ Goal❗❗ #Brazil ??1-0 #CostaRica ??

Phillipe Coutinho scores.#WorldCup pic.twitter.com/Q8LUzC8O81

— Football GIFs (@FootballGIFs4) June 22, 2018
This lead was extended by Brazil's leading attacker, Neymar as Brazil continued their winning streak.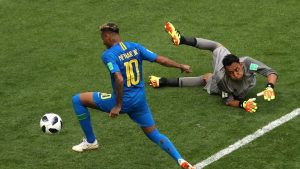 Forca brazil
What a victory???@neymarjr goal ??#countinho goal
Finnaly boys are.back?

— ??? Athi ??? (@Athi16749777) June 22, 2018
They'll call out Neymar for anything, he does have the tendency to over sell but how are people still complaining about it lol the verbal dissing isnt stopping him from faking or being great so just get over it https://t.co/lz0muACL5U

— ? (@ImSoFarGone24) June 22, 2018
I'm still not over the fact that Neymar literally yelled at the ref and said "Don't touch me" then scored 7 minutes later..

— Anas (@Anas_Chaar) June 22, 2018
90+1′ – GOOOOAL – Phillipe Coutinho saves the day for Brazil #BRA 1-0 #CRC#WorldCup #Rusia2018 #BRACRC pic.twitter.com/74Br7TT3KE

— SofaScore (@SofaScore) June 22, 2018
NEW RULE.

If Brazil has this type of emotional reaction after beating a team from CONCACAF, no one can ever give the U.S. National Teams any grief when we do the same thing.

Cool? Cool.

Glad we had this talk. pic.twitter.com/2U5Vt5DaBA

— Jimmy Conrad (@JimmyConrad) June 22, 2018
Brazil's win meant so much to Neymar ??

He's a superstar and the most expensive player in history but deep down he's still that little kid from Brazil living his dream of playing for his country in the World Cup. pic.twitter.com/izXbcdWvP7

— Neymar Stuff (@NeymarStuff) June 22, 2018
*********************************************************************
FIFA World Cup 2018 – M25: Nigeria Vs Iceland (2-0)
Highlights:
WC '18 – Match 25: Nigeria Vs Iceland
Result: 2 – 0
Goal Scorers:
Nigeria: Ahmed Musa 49′, 75′
Highlights:
Nigeria looked to extend their record of winning against European sides in the World Cup 2018, while Iceland were pretty confident of replicating their performance from their last encounter.
In the 1st half, both teams took some breathtaking chances but no one could score the opening goal of the match.
The 1st half ended with the scores 0 – 0. The 2nd half started and only 4 minutes had passed when Nigeria's striker Ahmed Musa scored the opening goal of the match.
Another great goal scored in this #WorldCup . Gorgeous 1st touch then lashed in with aplomb by Ahmed Musa ? #NGAISL pic.twitter.com/5tBZxXLle7

— Adam McPhail (@Adamskibeats8) June 22, 2018
Nigeria were now in the lead by 1 – 0. Iceland needed to equalize but instead Ahmed Musa struck again to double the lead for Nigeria.
Indulge yourself in the beauty of Ahmed Musa's goals. ? pic.twitter.com/BBgwpOfaV7

— Soccer Laduma (@Soccer_Laduma) June 22, 2018
Iceland got a chance to score a goal as they were awarded a penalty shot. But, Gylfi Sigurosson made a complete miss of the shot as the score remained 2 – 0.
This was also the final score of the match as Nigeria won the match in the end.
STATTO@Ahmedmusa718 is the first Nigerian to score in consecutive World Cup tournaments.

Musa is the 1st Nigerian to score 2 goals in a World Cup game, now, first to score TWO goals in consecutive #WorldCup

Ahmed Musa is Nigeria's highest scorer in World Cup with 4 goals.

— Fisayo Dairo (@FisayoDairo) June 22, 2018
Great counter attack from Nigeria…
Great ball movement from Nigeria…
Great cross by Moses…
Great 1st touch by Ahmed Musa…
Awesome shot for the Goal.

— Donald B. Masilela (@Didaman01) June 22, 2018
Ooooooooh! Yes! Nigeria is back on track at the RUSSIA 2018 FIFA WORLD CUP. Ahmed Musa rekindled hope for Nigeria, with the well deserved 2 goals during the 2nd half after a terrible 1st half with Iceland. If… https://t.co/x4uXcFh5R2

— Angelo Peter Elosia (@AngeloPelosia) June 22, 2018
Ahmed Musa 1st goal strike sends Nigerians into a frenzy.. Go eagles#Nigeria #NIGICE #NGAICE @amadin2000 @DailyPostNGR @Chimsky1 pic.twitter.com/RXp0dweuEM

— Amadin Joseph Uyi (@amadin2000) June 22, 2018
Secondary school students reaction to Iceland's penalty is the best thing you'd see today #NGAISL BEAUTY OF THE GAME pic.twitter.com/vsxaawJlpS

— ThePrinceIsy (@theprince_isy) June 22, 2018
 *********************************************************************
FIFA World Cup 2018 – M26: Serbia Vs Switzerland (1-2)
Highlights:
WC '18 – Match 26: Serbia Vs Switzerland
Result: 1 – 2
Goal Scorers:
Switzerland: Granit Xhaka 52′, Xherdan Shaqiri 90′
Serbia: Aleksandar Mitrovic 5′
Highlights:
This was the 1st time that Serbia and Switzerland faced each other in a World Cup match. Having lost just one of their last 4 games of the World Cup 2018, Swiss were pretty confident of winning against Serbia.
In the 1st half, Aleksandar Mitrovic's early strike put Serbia in the lead and pressure diverted onto Switzerland.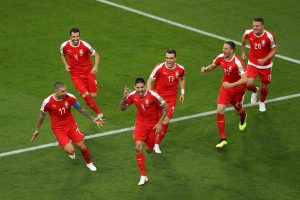 Switzerland couldn't score an equalizer and the 1st half came to an end. The 2nd half went underway and Granit Xhaka shot a rocket into the nets and to equalize the scoreboard.
What a strike by Granit Xhaka a stunning finish ???? pic.twitter.com/O2esgvkEb0

— Gooner Nick (@NickVann1987) June 22, 2018
Both teams now searched for a tie-breaker goal. And, in the dying minutes of the match Shaqiri scored an absolute ripper to win the match for Switzerland.
?? Aleksandar Mitrovic:

? Wiped Out By 2 ?? Defenders

❌ No Penalty Given

? No VAR Decision

? @RioFerdy5: "That's a mugging on the street." ?‍♂️ pic.twitter.com/74mzkgQLV0

— SPORF (@Sporf) June 22, 2018
18 – Aleksandar Mitrovic has scored 18 goals in 26 games for club and country in 2018. Resolution.#SRBSUI #SRB #WorldCup pic.twitter.com/5plYbodxF7

— OptaJoe (@OptaJoe) June 22, 2018
Controversy as VAR fails to suggest a review after Aleksandar Mitrovic was wrestled to the ground by two #SUI players https://t.co/UFooutX3yx pic.twitter.com/ztC0AgjSEI

— Telegraph Football (@TeleFootball) June 22, 2018
A 5th minute goal by Aleksandar Mitrovic gives #SRB the 1-0 lead. It's the 3rd-fastest goal scored at this #WorldCup.

Fastest Goals Scored at 2018 #WorldCup
3:30 Cristiano Ronaldo vs Spain
3:58 Cristiano Ronaldo vs Morocco
4:49 Aleksandar Mitrovic vs Switzerland pic.twitter.com/XEWL1HUcgv

— ESPN Stats & Info (@ESPNStatsInfo) June 22, 2018
Granit Xhaka doing the "duart e kryqëzuara" (Albanian eagle gesture) during his goal celebration. Xhaka's father was a political prisoner before emigrating from the former Yugoslavia to Switzerland in 1990. pic.twitter.com/g4igcAPf2m

— Mootaz Chehade (@MHChehade) June 22, 2018
According to the Daily Mirror, these are five 'Untouchable' players in the mind of Unai Emery…

▪ Hector Bellerin
▪ Alexandre Lacazette
▪ Henrikh Mkhitaryan
▪ Granit Xhaka
▪ Pierre-Emerick Aubameyang pic.twitter.com/KxuF8dE2uV

— ArsenalFanTV (@ArsenalFanTV) June 21, 2018
That goal will only prolong the myth that Granit Xhaka is a good footballer.

— Paddy Power (@paddypower) June 22, 2018
SHAQIRI!!! SURELY THE WINNER FOR #SUI!! #WORLDCUP pic.twitter.com/jMZsnVd91r

— FootyMatrix ⚽ (@Footy_Matrix) June 22, 2018
Shaqiri doing the same celebration as Xhaka. This tournament means everything to the players. pic.twitter.com/OXJa7koREw

— Mootaz Chehade (@MHChehade) June 22, 2018
Xherdan Shaqiri's #WorldCup game by numbers vs. #SRB:

91% pass-accuracy
77 touches
8 shots
5 fouls won
4 successful take-ons
1 shot on target
1 goal

Im-pec-cable. #SUI pic.twitter.com/IwlnBRkvDX

— Squawka Football (@Squawka) June 22, 2018
For more updates regularly visit allsportspk