In the first Playoff match Pakistan beat Indian team 5-4. With this win Pakistan team is a match away to qualify for the XII FIP World Polo Championship, being held in USA from 26th October till 6th November 2022.
The second match which will decide the team – Pakistan or India, to represent Zone E in the World Polo Championship, will be played on 11th September in another ground-East Rand Polo club.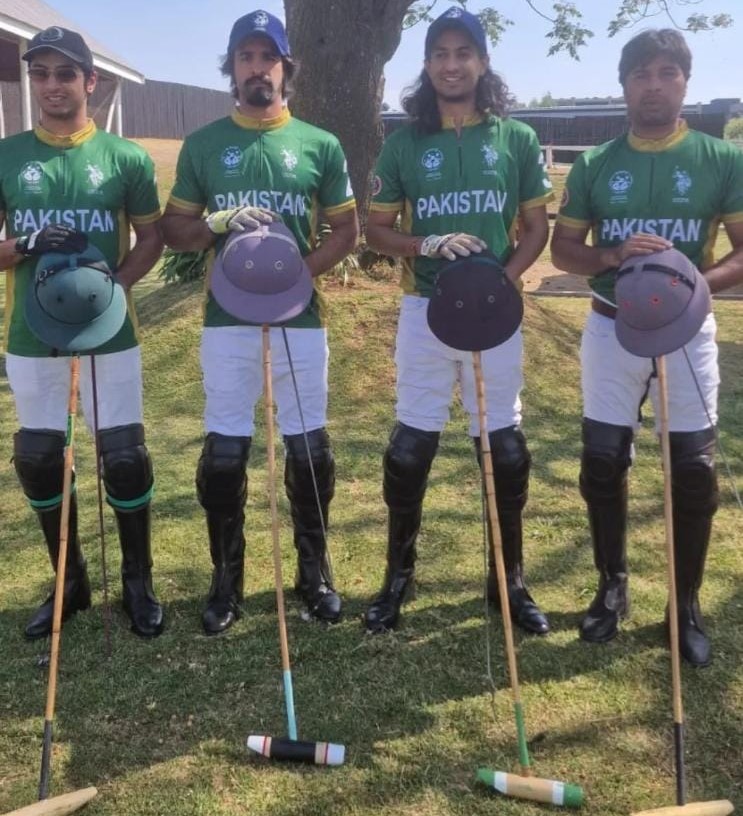 The first playoff match was a closely fought match, with the score card being 4-4 till the last minute. It was in the last few seconds that Pakistans' young energy prevailed and from a cluster of mounted players of both teams, Temur Nadeem manoeuvred to steer the ball towards Mikayal Sami. Taking advantage of the opportunity, in full gallop and with utmost accuracy and precision scored the match winning goal. The desperate effort of an Indian player who chased and tried to intercept Mikayal went in vain.
In an exclusive talk with Allsportspk, on day of departure the Captain Raja Sami had stated that, "he is confident that having young blood like Hamza, Temur aand Mikayel would give Pakistan team an edge." The assessment seems to have proven correct as it was the youngsters energy which made the match go in Pakistan's favour.
The score sheet says it all – Hamza Mawaz 2 goals, Mikayel 2 goals, Temur Nadeem 1 goal.
Sportsmanship Spirit Personified
Pakistan had missed two penalties which in a match of this level is unmerited. However, the display of sportsmanship by Humza Mawaz, earned him – honour of the day. According to eye witness feedback exclusively to Allsportspk, the 40 yard hit by Humza was confirmed as a goal by both the Umpire and the Goal flag keeper. However, it was Humza's honesty as a sportsman and for the flag he represented that he informed the Umpire to reverse the decision as it was not a goal.
Mr. Javed Mawaz second generation of the Mawaz Polo family, was extremely proud of this grandson's honesty and stated "That's a sportsman! Humza has made the country and family proud."
The Pakistan players which played were Captain-Raja Sami Ullah, Hamza Mohammad Mawaz Khan, Raja Taimur Nadeem and Raja Mikayel Sami.
According to Allsportspk sources, the playing conditions at Inanda Polo Club were not very conducive, especially with the ground surface being bumpy and not up to the international standards. There is also an unconfirmed report about a horse which died.
Pakistan South Africa Community Presence
The environment was very supportive for the Pakistan team as a large number of Pakistan community living in South Africa had gathered.