The Gladiators 23rd Inter School Scrabble Championship will be played at NJV Govt School, Karachi on 28th and 29th January.
Pakistan Scrabble Association and Quetta Gladiators announced that officially the registration has been opened and invitation letters have been sent to over 600 schools and colleges. Online registration facility is available at www.pakistanscrabble.org.
Based on the previous years successful events with world record participation in the 22nd edition, the championship is expected to attract about 2000 players from all over Pakistan.
22nd Interschool Scrabble C'ship 2022: World Record Participation; Happy Homes & BVS Parsi…
According to the rules, the players are divided into two groups and ten age categories. For the first time an "Open" category has also been included for players aged 25+. Further, top 200 players from this championship will be picked for training for the World Youth Scrabble Championship 2023 to be played in Thailand later this year.
Group and Categories Schedule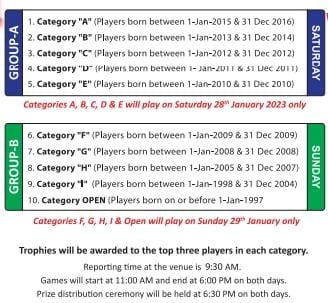 21st Gladiator Inter School Scrabble C'ship '20: Overwhelming Response; Registration Date Extend
Free training sessions which is Free for all, will be held at NJV school on 14th and 21st January to train new players.