Compiled with images of the 26 champion teams since 1967, a poster covering the full history of the Men's World Team Squash Championships is the latest production by the World Squash Library.
The poster besides the photograph of the winners of each includes the dates, venue and results for each event since the inaugural championship – including winner photos.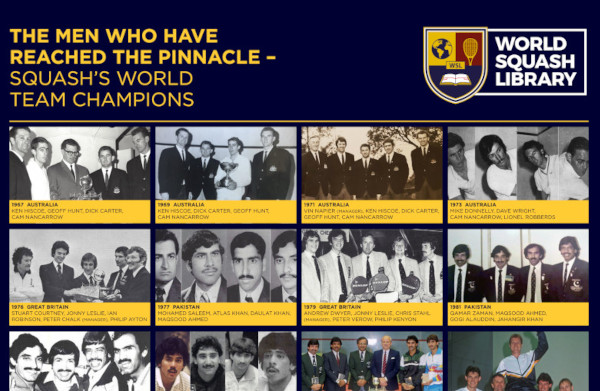 The Poster is available in digital and print form – and free to download by Federations, events, clubs and enthusiasts.
Originally titled the 'World Amateur Team Championship' and run under this title from 1967 to 1979, after which the sport went 'open', the biennial event has been hosted by 17 nations across all five continents. The inaugural event in 1967 was held in Australia.
As per the record till present, Australia has win the title a record 8 times, with Pakistan claiming 6 and England and Egypt sharing five apiece.
Egypt are the reigning champions, clinching the title in USA in 2019 in their fifth successive appearance in the final.
The World Squash Library, has been established in October 2019 by former World Squash Federation CEO Andrew Shelley as a free service to provide information and answer queries, and preserve books, handbooks, magazines, programmes, documents and images for future generations.
Allsportspk would support all efforts especially in form of donations for such causes.