American Football: Aaron Rodgers Set To Become The Highest Paid Player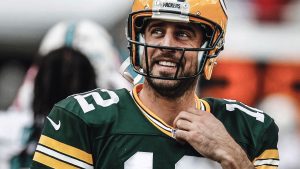 Aaron Rodgers, is all set to become the highest paid player in NFL history, after agreeing a 4 year contract extension reported to be worth $134 million.
According to reports, the 34-year-old earn more than $80 million by March 2019. The new deal surpasses that of Atlanta Falcons quarterback Matt Ryan, who held the previous record.
The Green Bay Packers quarterback, Rodgers, led the Packers to the Super Bowl championship in 2011, where he was also named most valuable player. Since being selected in the first round of the 2005 NFL draft and his affiliation with the Packers, Rodgers has been named the MVP (Most Valuable Player) two times in his career.
Sportsman Switch: Former NFL Pro-player Charles Tillman is FBI agent
Rodgers, who still had two years remaining on his contract, is now under contract through 2023, when he will turn 40.
Packers and Aaron Rodgers are expected to complete their record-breaking extension by the end of the weekend, source tells ESPN. But the deal is expected to now be finalized and in place before the start of the regular season, per source.

— Adam Schefter (@AdamSchefter) August 29, 2018
Such a huge deal is not knew in this sport as previously, a 5 year contract extension was signed by Odell Beckham Jr at the New York Giants worth $95 million.  This contract made Odell the the highest paid wide receiver in NFL history.
The @Packers said they didn't sign Colin Kaepernick last year when Aaron Rodgers went down because they saw Brett Hundley as their quarterback of the future.

Hundley went 3-6 and today they traded him for a future draft pick.

— Shaun King (@shaunking) August 29, 2018
Aaron Rodgers is the Michael Jordan of the NFL. He's the most talented QB ever. He's worth every single penny.

— Adam Schein (@AdamSchein) August 29, 2018
For more updates keep visiting allsportspk