Cricket: Faf Du Plessis Explains World Cup 2019 Plans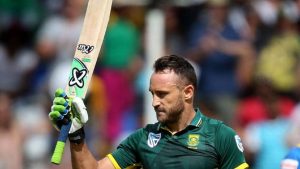 With the Cricket World Cup less than a year away, South Africa captain Faf du Plessis believes things are starting to fall into place for his side in ODI cricket.
Pakistan Cricket: Nasir Jamshed Banned Over Spot Fixing Scandal
"[There's] a lot of emphasis on the way we play and how we want to play," said du Plessis. "The vision myself and the coach [Ottis Gibson] have is all about how we are going to win the World Cup. I think you can see the guys are playing an exciting brand of cricket. There are a few young faces playing fearless cricket. To beat Sri Lanka in Sri Lanka three times in a row is no mean feat."
There is still a while to go until that tournament, a period du Plessis sees as perfect for getting some miles into the legs of an exciting crop of inexperienced players.
South Africa are perennial underachievers at world tournaments. Despite the legends that have represented them – the likes of AB de Villiers, Dale Steyn, and Hashim Amla in recent times, and Shaun Pollock, Jacques Kallis, and Allan Donald going further back – the Proteas have never won a global white-ball tournament.
South Africa Cricket: AB De Villiers 'No Regrets' On Retirement
Indeed, their quarter-final victory over Sri Lanka in the Cricket World Cup 2015 was their first ever win in a knockout game, and their penchant for contriving to lose in crunch situations has earned them a 'chokers' tag. But, after a series victory against the same opposition as that sole elimination success came, Faf du Plessis believes South Africa are close to nailing down an approach which could serve them well at the Cricket World Cup 2019.
Cricket – ICC World Cup 2019: Fixture Schedule Announced
"There are still a few things that need to happen over the course of the next six months to a year. I see that as a great opportunity, especially for the younger guys.
"I am really excited about our opening bowling combination: KG and Lungi. That's very nice for us. They strike and they take wickets. There are some nice young batters coming through, which is putting pressure on the more experienced batters.
World Cricket Rankings – 15th Aug '18: Pakistan Retains Top T20 Rank
There are few young players as exciting as the Proteas' fast bowling pair Kagiso Rabada and Lungi Ngidi who have established themselves as first choice in recent times, and du Plessis says other spots are up for grabs as his side aim to establish their ideal line-up.
"The experienced players don't need more experience. It is about getting the younger guys as much experience as possible. Even if that means if there are one or two series where we rest the more senior players, just to get the younger players more experience."
AB de Villiers – Mr.360: Announces Retirement
"Obviously, when AB retired, that forced us to change a few things, which is why I moved to No 4 – we're still playing around with one or two things to see what is our best combination."
The series against Sri Lanka is ongoing, but du Plessis will take no further part after injuring his shoulder in the third ODI. In his place, Quinton de Kock is leading the side, the third ODI captain South Africa have had this year after Aiden Markram deputised against India.
"We felt that when Graeme [Smith] left, there were no real opportunities for young leaders in the team to get one or two occasions where they could captain without being the full-time captain," said Faf du Plessis. "You can use that opportunity to learn. There are two or three young guys in the team who have some leadership capabilities.
Pakistan Cricket Awards: Players Recognized; Fakhar The Highest Earner
'With guys like Quinton, it's more about developing their personalities and character. Someone like Quinton will grow a lot just by getting extra responsibility.
"It doesn't mean that he will be captain in the future or he won't – we just see an opportunity for him to grow as a player.
"When I do eventually come back, hopefully he will be better off for it with a better understanding of what it's like to be a senior player in the team.
"As a player, it's easy to just focus on your own game and when you are captain you don't have that luxury, so this will teach him a different side of cricket."
For more updates keep visiting allsportpsk