Since Real Madrid won the Champion League's final, only one man has had the spotlight on him. And, it is none other than Cristiano Ronaldo who had hinted his exit from the Spanish club right after Madrid won 3 consecutive Champion League titles.
His exact words right after winning the Champion league title were as follows:
"It was very nice to be in Madrid. In the next few days, I will give an answer to the fans who have always been by my side." (Cristiano Ronaldo)
Whether he will leave the club or not, that is quite uncertain but the issues revolving in the football superstar's mind are pretty clear. And, in this article we will discuss as to why Ronaldo can leave his beloved club and which club he is more likely to start off his career next?
Contract Issues With Madrid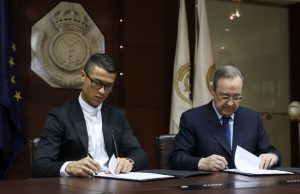 This news has been circulating in the media for a long time now. Supposedly, Ronaldo is not happy with his current pay structure and is demanding a pay hike.
Cristiano Ronaldo & Real Madrid: Pay Hike Demanded
Currently, Ronaldo is the 5th highest paid player in the world. And, according to the Portuguese it's quite unfair as his performances have been top-notch for Madrid in the past years.
Moreover, it was rumored that Real's owner, Florentino Perez had given in to Cristiano's demands of upgrading his pay to equalize Messi. But, it seems that is not the case right now.
Zinedine Zidane's Sudden Exit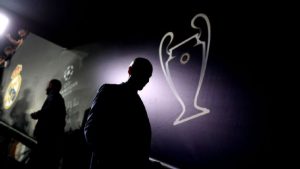 Zidane's exit could also spark a transfer of Cristiano Ronaldo to other clubs. The Portuguese had a good repertoire with the former manager and Ronaldo might not want to stay after Zidane suddenly announced to leave the reins of his beloved club; Real Madrid.
Breaking: Zinedine Zidane Steps Down As Real Madrid's Manager
Real Madrid: Zidane's exit leaves Cristiano Ronaldo feeling devastated – MARCA in English https://t.co/dGfVTl4lIJ

— Don Era (@mshettima64) June 1, 2018
Is It Time To Move On?
Cristiano Ronaldo's football career is in it's last phase and the Portuguese star has spent most of his time in Real Madrid. Maybe Ronaldo is thinking that it's time to move on and end his Real Madrid's career on a high note.
Potential Clubs To Sign The Football Star
Manchester United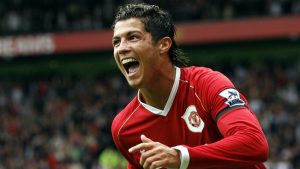 Reportedly, a confirmed offer has already been made by the Red Devils to rake in their former striker back to their club. And, according to reports Ronaldo is also interested to end his career in Manchester United, a club which made him the player he is now.
Football are also excited and in full support of this transfer and according to allsportspk expert panel if Ronaldo decides to leave Madrid then his next destination would be Manchester United.
Bring him home #mufc https://t.co/Yg1SYe2Lzx

— Man United News (@ManUtdMEN) June 1, 2018
Paris-Saint German
The rumors of Ronaldo joining PSG started when his mother said that she wouldn't mind if Cristiano joined PSG. Chances of it happening are bleak, but a PSG fan can only hope that Ronaldo is signed by PSG for the upcoming season.
Ronaldo's mum: : "Convince Cristiano to sign for PSG? To be honest, it wouldn't annoy me [if he did], but I would prefer him to return to Manchester United. pic.twitter.com/IqhlINKb8G

— Man Utd Videos ⚽? (@ManUtdVines) May 30, 2018
Reactions Of Ronaldo's Leaving Madrid  
The reactions on whether Ronaldo will leave Real Madrid are very indifferent from each other. Some people feel that it's time to move on whether others are of the view that the Portugues star should end his career with Real Madrid.
You think if Wenger goes to Real Madrid, he might do me a favour and sign Iwobi, Welbeck and Mustafi and sell me Ronaldo, Isco and Marcelo?

— Unai Emery (@_UnaiEmery) May 31, 2018
You think if Wenger goes to Real Madrid, he might do me a favour and sign Iwobi, Welbeck and Mustafi and sell me Ronaldo, Isco and Marcelo?

— Unai Emery (@_UnaiEmery) May 31, 2018
IF Ronaldo leaves Real madrid,i quit being a real madrid fan because i will not bear seeing Real madrid play without Ronaldo in the frontline..Ronaldo is my idol..#plz don't leave uS kinG CR7 pic.twitter.com/WNLWy66wll

— Oaratwa Lanki (@LankiOaratwa) June 4, 2018
Real Madrid fans should humble themselves before Ronaldo leaves their stupid all white luxurious team. I bet 100 million of them would support Manchester United if Ronaldo goes to ENGLAND! pic.twitter.com/01QBcpnhYx

— D9INE NETWORK ?? SINGAPORE (@CY_LEGACY_) June 3, 2018
#Marcelo has delivered #Real Madrid with an ultimatum – and suggested, if #Cristiano Ronaldo leaves, he will too. pic.twitter.com/lBjZC8Ab1U

— Soccer24.com (@Soccer24com) June 2, 2018
Guys we need to pray one wrong move in picking our manager
• Ronaldo leave Marcelo follows
• bale joins United
• Toni kroos leaves
• ISCO joins city
• UEFA champions to Europa champions#HalaMadrid #RealMadrid #Zidane #Pochettino #WorldCup pic.twitter.com/UvDGKbbKF4

— Mnqobi Madlala (@MNQMAD7) June 1, 2018
.@Cristiano has been advised by his mother to rejoin @ManUtd if he leaves @realmadrid during the off-season. #KickOff https://t.co/SYgqxOx3Lx

— Kick Off (@KickOffMagazine) May 31, 2018
Wait hold up, why Zidane wanted to leave Real Madrid ??? we need him! If he leaves then surely Ronaldo and Bale will leave ???

— MuhdTaufiq™ (@_topeqq) May 31, 2018

For updates regularly visit: Allsportspk