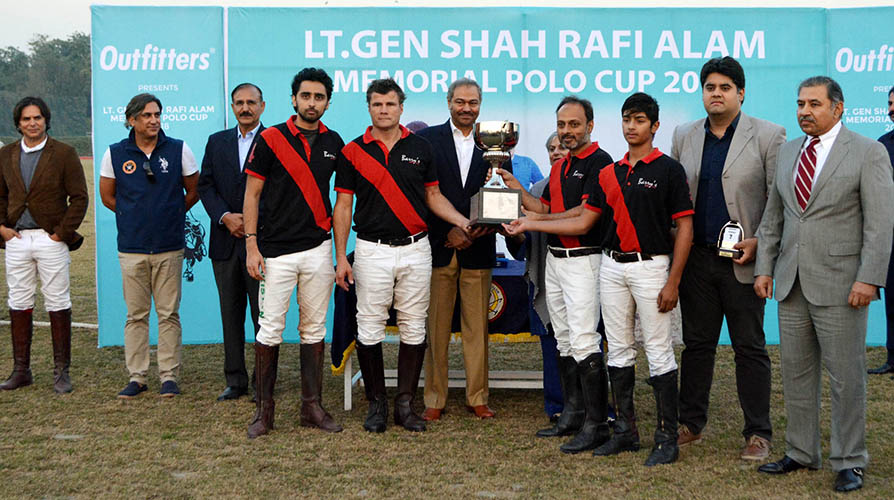 LPC LAHORE: Barry's clinched the Lt Gen Shah Rafi Alam Memorial Polo Cup after defeating Jubilee Insurance/Master Paints by 5-4½ in the thrilling final played at the Lahore Polo Club (LPC) ground on Sunday.
Hernan Pieres and Raja Samiullah emerged as heroes of the day for Barry's as they banged in two goals each while the remaining one came from Raja Mikael Sami. For Jubilee Insurance/Master Paints, which had half goal handicap advantage, Edward Bannireve and Hamza Mawaz Khan slammed in one brace each.
Polo Rankings Worldwide: 07-01-2018
Edward Bannireve struck a field goal to give Jubilee Insurance 1-0 lead which was soon doubled by Hamza Mawaz Khan through a field goal. In the dying moments of the first chukker, Raja Samiullah succeeded in converting another field goal to reduce the margin to 2-1. Raja Mikael Sami started the second chukker in great style by hammering an equalizer to draw the blood at 2-2. Hamza Mawaz then successfully converted a 60-yard penalty to give Jubilee Insurance 3-2 lead.
Barry's started playing aggressive polo in the third chukker and managed to bang in a brace through Hernan Pieres and Raja Samiullah, who converted 30 and 40 yard penalty hits to take 4-3 lead. Edward then pumped in a 30-yarder to level the score at 4-4. In the fourth and decisive chukker, both the teams kept on fighting for the match-winning goal and in the end, it were Barry's, who fired the match-winner through Hernan Pieres to win the final by 5-4½.
Luis Mighal Duggan and Eulogio Celestino supervised the match as field umpires.
Half goal handicap advantage helped Outfitters outpaced Army by 5½-5 to win the subsidiary final. Alman Jalil turned out to be a top scorer for the winning side as he hammered a hat-trick in Outfitters' victory while Ahmed Ali Tiwana and Qadeer Ishfaq scored one goal each. For Army, Ahmed Bilal Riaz scored a brace while Omer Minhas, Faizan Tassaduk and Luis Mighal Duggan contributed one goal apiece. Geoffredo and Eulogio Celestino officiated the match as field umpires.