Football: Messi Retiring From International Football?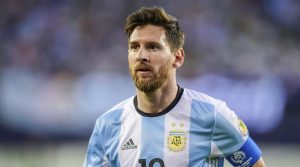 According to reports, Lionel Messi is taking a break from international duty, as he will not be taking part in the forthcoming friendly matches of Argentina. Although, the report indicates that the Barcelona star would not hang his boots forever, however his return period is indefinite.
World Cup 2018 – Ronaldo Vs Messi: Similar Exit; Different Story
Lionel Andrés Messi Cuccittini is an Argentina national and a professional footballer. He currently captains both his international team, Argentina and his football club, Barcelona.
⚠️ Messi will not play in Argentina's upcoming friendly matches and will be on a break from the national team. Messi informed interim coach Lionel Scaloni of decision. Messi won't quit permanently but no one knows when he'll return [tnt sports la]

— FC Barcelona Fl ? (@FCBarcelonaFl) 14 August 2018
After failing to take Argentina to World Cup glory in 2014, Messi had already stepped down from the team in 2016, however he returned in 2018 World Cup, in hopes of leading his team to the end. But, he remained out of form in the whole World Cup, as Argentina could not even make it to the final eight.
Football – Lionel Messi: Hints At Retirement
This may be a reason, as to why the report further suggests that Argentina's administrator, Lionel Scaloni spoke with the Argentinian and disclosed to him that he would not play in the forthcoming friendlies.
❗Lionel Messi will NOT take part in the Argentina national team games from now on. He hasn't definitely retired from the team, and he'll communicate further decisions after this year. #ForçaBarça #Messi

— Barça❤?? (@Xavi6maestro) 14 August 2018
Next year, Copa América in Brazil is happening, however, news around his return are seeming pretty uncertain.
Football – Spanish Super Cup '18: Video Highlights & Twitter Reactions
These reports are not new as the Barcelona forward, was already determined to stop playing for Argentina, right after the World Cup 2018 failure, however his association with the FA president, Claudio Tapia, persuaded him to be on hold.
I get the sense Messi is playing for time rather than retiring from Argentina. Wants to see what the AFA will do before deciding whether to play in Copa América next summer. Relationships throughout the camp seem pretty broken at the moment and AFA need to fix them.

— Andy West (@andywest01) 14 August 2018
This decision is a big one, and if it happens then Messi's choice may pivot upon who Argentina enlists as their new coach in the upcoming international events.
Should The Football Legend Retire From International Football?
The answer to this question is convoluted. Whether the footballer wants to retire and focus on his club Barcelona, or continue playing for Argentina until the 2022 World Cup; this is a decision that only the football superstar can take for himself.
Football: Usain Bolt All Set To Train With Australian Domestic Club
Messi is soft period! Make messi Portuguese and Ronaldo Argentinian ronaldo will win easily a copa america with Argentina and maybe even a world cup with all the talent Argentina has. Ronaldo is a better person and player

— Palacios (@EPWITDAHOODIE) 14 August 2018
Messi quits Argentina national team "until further notice". Just sugar coating the term retirement. Easy to pretend being a leader in front of camera than actually leading your nation until the end. pic.twitter.com/UXhF3GEfNi

— Karīm (@KarimB92) 14 August 2018
Reports in #Argentina say Lionel #Messi has decided to retire "temporarily" from playing in the Argentinian National Team. He took his decision after talking to the international interim coach. pic.twitter.com/YmuiYbQCV8

— Ahmed Nasri ⍟ (@Warchadi) 14 August 2018
Where exactly is he stepping down from?

Argentina has no nostalgic memory of #Messi
He is only king at Barça

— DanWise (@utd_dan) 14 August 2018
For more updates keep visiting allsportspk